Welcome to the Community Radar, or as we also call it: #COMRAD. We're here to showcase another batch of incredible community content that was shared recently. Let's dive right in!
COM-ART
Make sure to have your papers ready! In this photo, taken by Kalugaaa, NATO troops are mobilizing and have set up roadblocks across Malden. An excellent composition where you can feel like part of the scene.
Mr.Mustache, a recent Arma 3 Art of War contest winner, put together another fantastic screenshot of two divers inserting off the coast. That's the beauty of Arma, there are lots of ways to get to your objective. You might as well cool off before things heat up.
This next image by Ceb.Cin is out of this world. It takes us to a fictional, faraway landscape as soldiers utilize unmanned drones to search for life among the stars. Who knows, maybe they could find those that came during First Contact?
When you're pinned down and in need of support, who you gonna call? A-164 Wipeout! Thanks to Silas, from the Arma Discord, for calling it in with this impressive screenshot. A superb shot of a familiar bird flying among the clouds.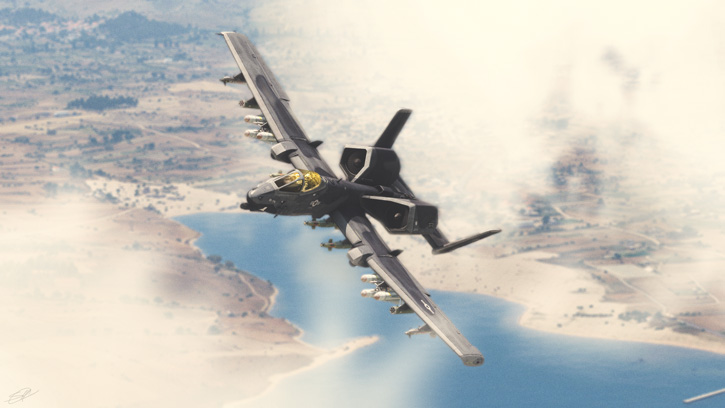 COM-DEV
There is news from down under! The Australian Commando Weapon Pack has recently been updated with new and improved weapons, thanks to the ACWP Mod team! M4A5, HK416D, Glock 19, and more can be discovered in their recent changelog.
It seems that Leon is working hard on creating some extra detail to their C7NLD/C8NLD Weapons mod. Everything from reworked scopes to new camouflage textures. Lots of great additions to be on the lookout for soon.
Speaking of new looks, the Prowler has gotten a tune-up thanks to Farsight. You can now cruise the streets of Kavala in style with a sweet, new Bohemia Interactive texture. Not convinced? Check out this showcase (produced by Ceb.Cin). Think we should get one for the office?
For fans of the Chernarus Redux project and mod, this might excite you. WetNreckless, a developer for the project, has been spending their time creating new interiors and building designs. These are teasing previews of the upcoming places you could explore in your post-apocalyptic environment. For more information, be sure to join their Discord to stay up to date on the latest news.
COM-OPS
Well, things are certainly going to new heights in Arma 3. Inspired by the recent events in the field of science, VladtheChad, a 3D artist, recreated the reusable launch vehicle Falcon 9 FT, manufactured by SpaceX. Thank you for sharing this stellar addition with us!
If you're looking for that competitive thrill, grab some friends and register for the next Capture the Flag League! Hosted by ESM, compete for medals and see who can be titled "Champion" in this upcoming 6v6 competition. You have until September 19 to sign up!
After much anticipation, Bohemia Interactive, in collaboration with the International Committee of the Red Cross (ICRC), has finally revealed the winners of the Arma 3 Art of War contest. In case you missed it, these community submitted entries will be featured in the upcoming Art of War charity DLC, which will become available for purchase later this year. All of Bohemia's revenue from this DLC will be donated to the ICRC and will become available for free to everyone near the end of 2021. If you haven't already, we'd highly recommend you view the winners and find out more about the upcoming DLC.
COM-VIDEO
Many players have aspirations to take to the air while playing Arma, but learning to pilot an aircraft properly can take time and experience to learn. Fortunately for us, Dslyecxi, a long-standing community veteran, has decided to help share his knowledge with not one, but two, new detailed videos on the subject of helicopter flight. The first video is an original addition to his Art of Flight series that discusses the uses and differences of aerial weaponry. The second breaks down the key elements that helicopters pilots might consider when picking out the perfect landing zone. They are fantastic visual guides for those looking to learn. For more videos like these, check out his Arma 3 Community Guides on YouTube.
In this video by Rajiin Terra, follow the Australian Armed Forces as they engage in an intense firefight in the valleys of Takistan. Lots of striking action as they fight their way through the lines of the enemy in this milsim scenario.
COM-STREAM
If you have ever wanted to watch the development process of a 3D model for Arma 3, RKSL has you covered. You can catch them doing live builds of work-in-progress content over on Twitch.
From the perspective of Pilot N. Niles (GrimmReaper), join the 4th Infantry Brigade from the air as they battle through their weekly milsim operations. Watch all the excitement over on their Twitch channel.
COM-REP
Community Profiles:

Community Spotlights:

#MeetTheBohemians:

SEND TIPS & SUGGESTIONS
If you would like to suggest content for next month's #COMRAD, make sure you tag @Arma3official or #Arma3 on Twitter, or submit your suggestions to Nillers on Twitter, Discord, or on our forums.