If we look back on Arma 3's development, we can see it's gone through multiple stages. Each of those came with a certain focus. The Alpha and Beta were of course very much about building up the core platform. Then, after the Gold release, we turned a large part of our attention to user content creation (Eden 3D Editor, Steam Workshop, Arma 3 Launcher). Next was Arma 3 Apex, which was an opportunity to take the series to a fresh new locale, but also represented the culmination of platform development in terms of gameplay features and multiplayer systems. The two years after that were largely about vehicle warfare and delivering diverse singleplayer experiences – all the way up to the armor-enhancing Tanks DLC/1.82 Update and the free-destroyer-shipping Encore Update earlier this year.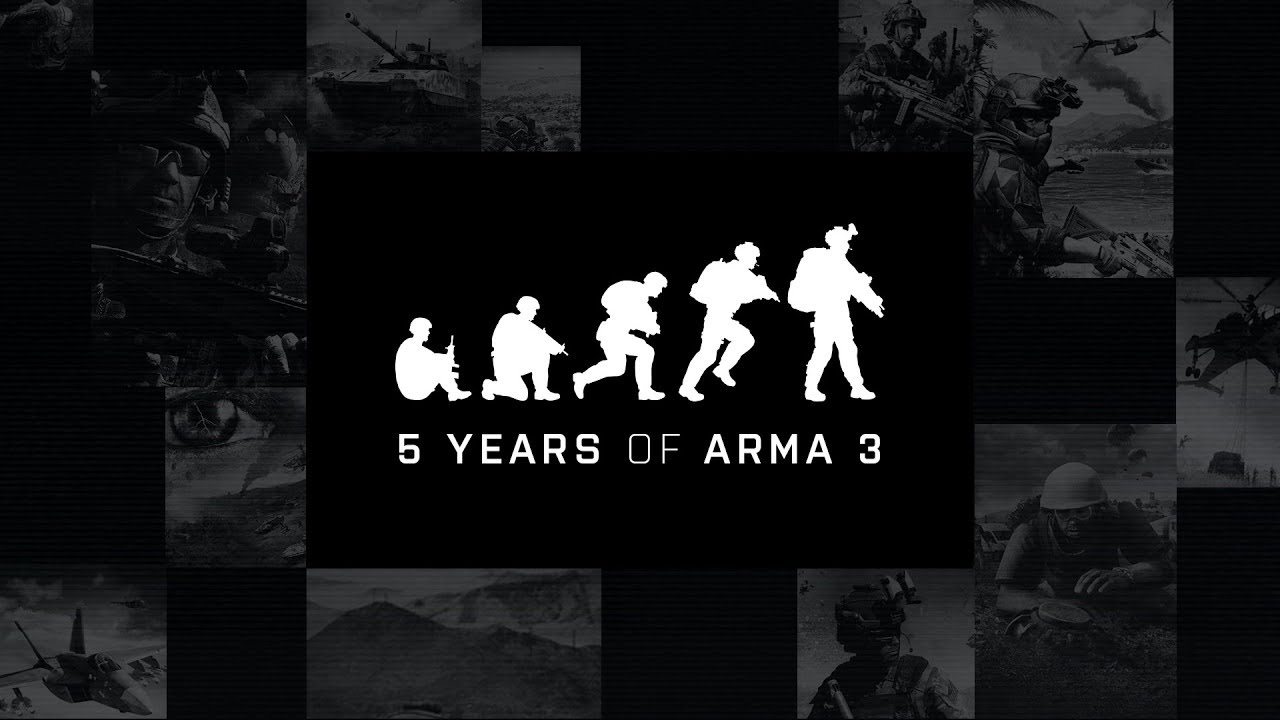 "OLD MAN" SCENARIO
Now that the Arma 3 platform has entered more stable waters and no major changes to core mechanics are to be expected, you can say that we've moved into a next phase for Arma 3. One which, in many ways, is about experimenting. This involves stepping out of our comfort zones, embracing more creative freedom, and relaxing our grip. That certainly also applies to our "Old Man" (codename) project – a free open-world singleplayer scenario for Apex owners, which we first discussed in our 2018 roadmap update in June. Originally, we were aiming for this to be ready for a release at the end of the year, but over the past few months it's become clear that this was not realistic. Building an open-world scenario, with original gameplay, that offers you freedom, but also provides enough guidance, comes with a lot of new design challenges. Those will take more time to solve, and right now we're not sure yet when we'll be able to meet our goals for the "Old Man" project.
WARLORDS UPDATE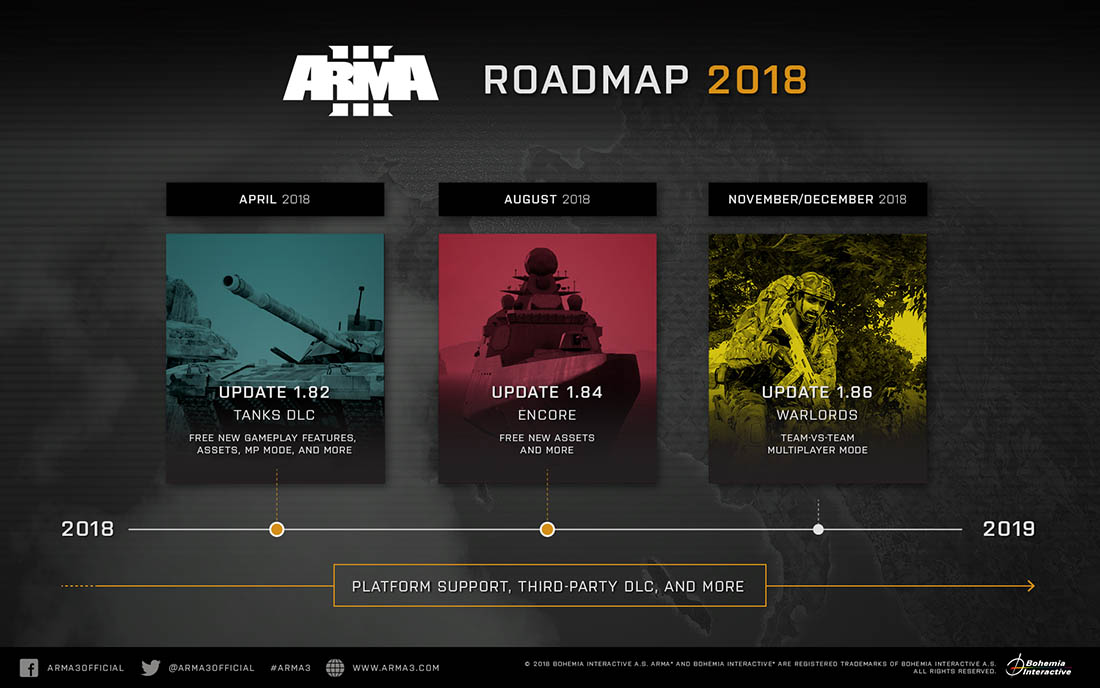 Fortunately, we do have another special, unannounced (until now), release planned for Arma 3 this year. Namely, we'll be introducing a free team-vs-team multiplayer mode called "Warlords". This mode is something that we've been working on during the past few months, and we believe it fills the gap in our current selection of official multiplayer modes by focusing more on large-scale combined arms warfare. To some of you this mode will seem familiar; it's an evolved version of the original Warlords multiplayer mode, which was initially made as a passion project by Arma 3's Senior Designer Josef "Chosé" Zemanek (nickname: Jezuro) in his free time and has existed on the Steam Workshop since 2015. We'll make sure to cover the rules of mode, its custom parameters, and explain how the official version has evolved from the original Warlords, in a future blog post.
Besides the new multiplayer mode, the free "Warlords Update" will also incorporate the ADR-97 weapon pack, our official mod, directly into the game. That means server hosts and content creators can include it in their arsenal without needing to worry about whether players are subscribed to the mod on the Steam Workshop. Furthermore, as a little bonus surprise, the update will add a few special characters to the game. Captured with Bohemia's new photogrammetry rig, these custom characters feature the heads of our very own fab five of veteran Arma developers: Jay "RoyaltyInExile" Crowe (ret. Creative Director), David "Dwarden" Foltýn (Technical Community Manager), Petr "Pettka" Kolář (former Project Lead), Vojtěch "Dr Hladík" Hladík (Lead Programmer), and Ivan Buchta (Creative Director). The Warlords Update, which will take Arma 3 to version 1.86, is expected to arrive towards the end of this year.
NEXT ON ARMA 3
In 2019 we're set to continue the trend of experimenting. Our team in Amsterdam, which oversaw the development of Laws of War DLC, is now leading the development of a new project, produced in strong collaboration with our other Bohemian teams. This project is still built on top of the Arma 3 platform but will do something a bit… unusual. It should also bring along some big new assets that all Arma 3 players will be sure to enjoy. Then there's our third-party DLC initiative. This endeavor is quite experimental by itself, and we're still anticipating a few bumps in the road, but if everything works out, we might already see the first of these third-party DLC in the next year. Aside from that, while nothing is set in stone and none of it might ever come to fruition, there are a few more ideas for official new Arma 3 content that we're currently evaluating.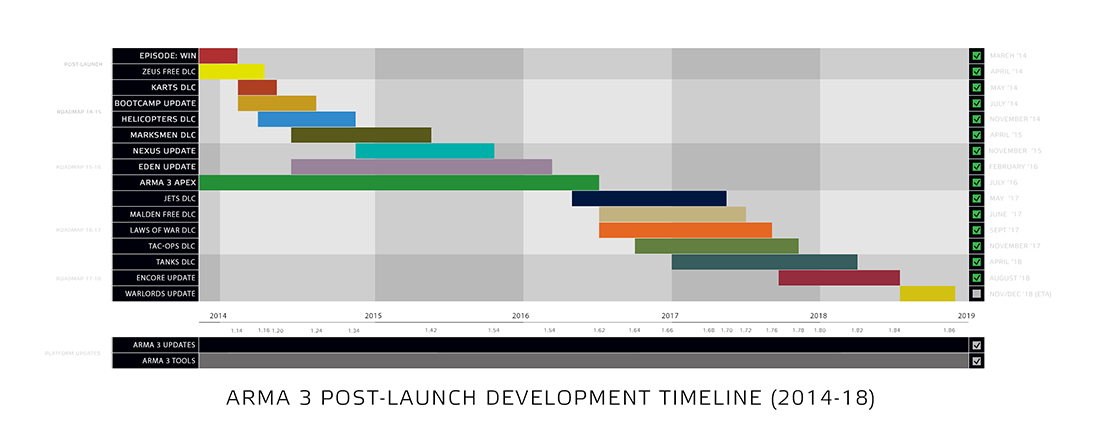 These developments, in combination with our active and meanwhile very experienced community of players and content creators, tells us that there's an exciting future ahead of Arma 3. Yet with experimenting also comes less certainty. That means that, unlike as it perhaps was in previous years, it will be more difficult for us to already share specific plans well in advance. We'll want to carefully balance sharing our ideas versus managing your expectations and be careful about making promises of which we're not sure whether we'll be able to deliver. We're also aware that the experimental nature of some of these projects might not be for everyone. That is why most of it will be completely optional to you as players. We'll talk more about that in due time – and of course we'll keep making an effort to inform you of our plans and progress via our SITREPs and other blog posts.
All in all, it seems we're about to head into one of the most interesting years for Arma 3 so far, and it's our absolute pleasure to have you along for the ride. Thank you for your ever-splendid™ support!
On behalf of the Arma 3 team,
@Ondřej Kužel (Project Lead), @Korneel van 't Land (Brand Manager) & @Robin Haugo (Community Manager)