Arma 3 turns 8 on Sunday (September 12), which calls for a celebration!
This weekend, starting today and ending this Monday, you'll get an 80% discount on the Arma 3 base game on Steam – the largest discount in its 8-year history. DLCs such as Arma 3 Apex and Arma 3 Contact are also on sale at up to 66% off. Visit Steam for all deals.
Furthermore, this Sunday at 19:00 UTC we'll be hosting "The Splendid™ Squad" live stream on Twitch. This will bring together 8 of Arma 3's most popular video content creators for a cooperative multiplayer scenario led by Liru the Lance Corporal as Zeus Game Master.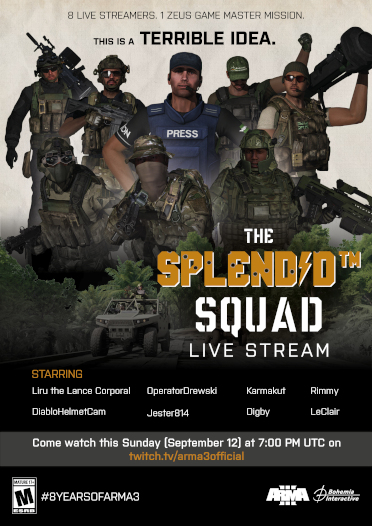 Here's the full mission briefing:
Situation
Bohemia Interactive will be hosting a community live stream event in celebration of Arma 3's 8th anniversary.
Date: September 12, 2021 (Sunday)
Start time: 19:00 UTC (UK: 20:00 BST / EU: 21:00 CEST / NA: 14:00 CDT)
Duration: ≈2 hours
Mission
Rumor has it that there is a group of Arma 3 streamers for who no operation is too dangerous. If you have the job, and the dough, AND you can find them, maybe you can hire... The Splendid™ Squad.
Signal
Execution
You can watch the event on Arma 3's Twitch channel and each Splendid™ Squad member will stream their perspective to their own channel as listed above. All of them will have 3 Steam codes for the Arma 3 Ultimate Edition to give away to viewers during the event.
We hope to see you there on Sunday. Thank you for 8 splendid™ years of Arma 3!