Bohemia Interactive plans a special live broadcast on Tuesday, June 22nd, from 5 PM UTC to 7 PM UTC.
Bohemia Interactive CEO Marek Spanel, Creative Director Ivan Buchta, and Arma 3 Community Manager Niles George will be hosting the 2-hour event, revisiting old memories, playing some iconic Arma missions live, and unveiling some great news for fans!

Spoiler alert: There won't be talks of any new release.
You can tune in on June 22nd at the scheduled start time via the Arma 3 YouTube channel or on Twitch. Expect a heartwarming event that explores the trajectory of one of the most important military simulation games in the history of video games.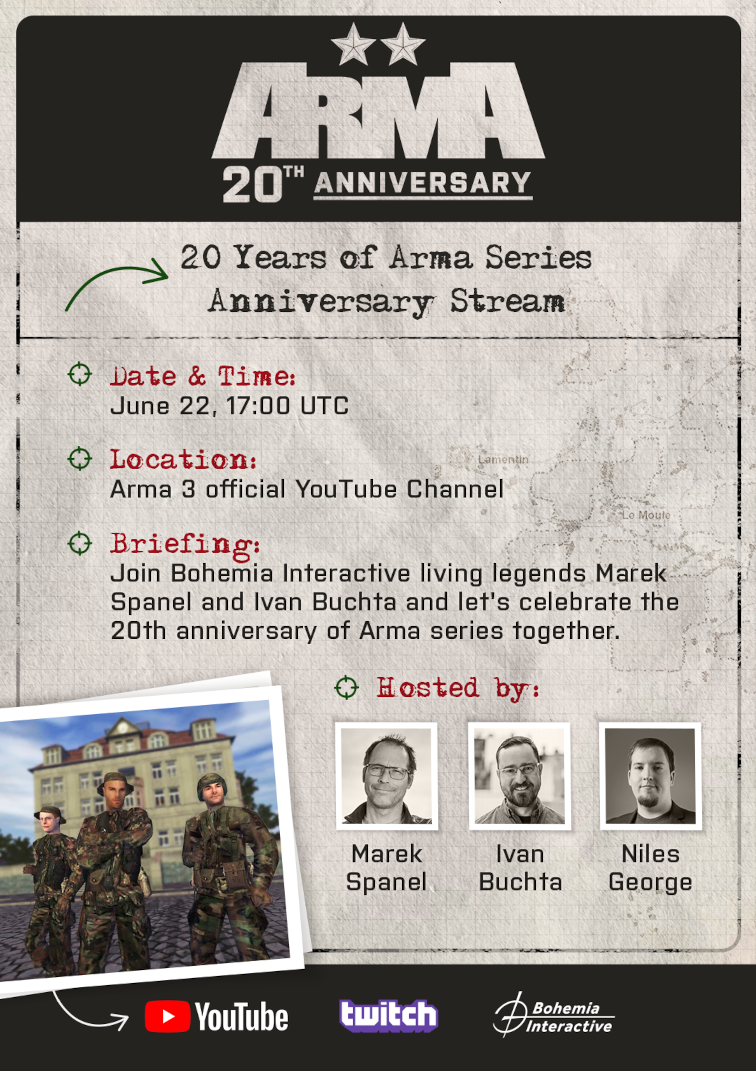 Released in June 2001 as Operation Flashpoint*, this franchise has earned the hearts of many millions of military game aficionados around the world. An IP with 20 years of legacy deserves a proper celebration, which is why Bohemia Interactive is organizing a full 20-day commemoration starting on June 22nd, with special content and social media activities for fans to come together and revisit Arma's epic journey.
For more information, visit the Arma blog, or follow the conversation on Twitter, and Discord.
*Operation Flashpoint(R) is registered trademark of Codemasters