Arma 3 hails people of every flavour from all over the world. To get to know them a little better, we're hosting a series of mini-interviews with some of our amazing community members. These aim to give you a personal insight into their backgrounds, why they got into Arma, and how they typically experience the game. In this issue of the Community Profile we interviewed community content creator Flash-Ranger.
BIO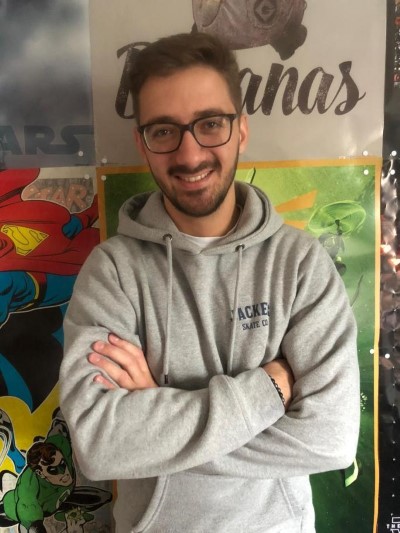 Name: Brice
Nickname: Flash-Ranger
Age: 26
Location: France
Occupation: IT & Software Support Analyst
BASELINE
Can you provide us with one random fact about yourself?
I am part French, part British. A half-blood!
What was the first Arma game you played?
It was Operation Flashpoint: Cold War Crisis, also known as Arma: Cold War Assault
What is your current Arma 3 playtime?
By the time this interview is published I'd say around 3600 hours.
What is your favourite game of all time?
Operation Flashpoint: Cold War Crisis without any doubt. Although I did have a blast with the game Fable: The Lost Chapter.
What is your favourite movie of all time?
Forrest Gump. My life always feels like I'm a dumb man living an amazing experience!
Do you eat pineapple on pizza?
I do, and I really don't understand why it is such a big deal.
Can you show us your PC setup?
5 QUESTIONS
1. How and why did you get into Arma?
In 2001, I saw an older friend play the Demo of Operation Flashpoint: Cold War Crisis and my dad liked it too. So a month later, my dad came back from work with a box of the game. Best present he ever gave me!
2. How do you play or engage with Arma 3 nowadays?
I lead Electronic Sports Masters. I organise and host eSports-type game modes. I have also developed the Capture the Flag game mode we use there. I participate in all the TvT/PvP games I can find with my Clan =S.O.F=.
I also have co-founded Radio Arma for which I record Podcasts featuring amazing guests from all around the Arma 3 scene.
3. Can you tell us about your most remarkable Arma 3 moment? (most funny, memorable, biggest achievement, etc)
That will have to be during the Finals of the ESM Capture the Flag tournament in October 2018: Tactical Training Team managed to break the confidence of the undefeated winner of previous tournaments, 88th Co. Walking Death. I was live-streaming and commentating the match and started screaming at the top of my voice to encourage the epic move they had done.
4. What is your favorite piece of Arma 3 user-created content (mod, addon, scenario, game mode, tool) and why?
I honestly can't choose between Blastcore and JSRS Soundmod. I think they are exactly what Arma has to improve on for future titles.
5. Can you share your #1 pro-tip for any Arma 3 player?
Try everything. The creativity of the community has no boundaries and if you limit yourself to one experience, one game mode, one community, you will not get the full experience of what Arma 3 can provide.
BONUS: Would you rather know the history of every object you touched or be able to talk to animals?
Even though learning from the history of objects could be a great thing for humanity, some of them would have been created by humans and I honestly don't know if that could help us be less dumb, so I'd love to learn from the animals.
CLOSING
To finish the interview, do you have anything you'd like to share with the Arma community?
Please never hold back your creativity, you are the reason Arma is such an amazing game. Don't wait for others to do it for you! Learn, stumble and become a Legend! But always respect others. They could return the favour if you need it one day.
I would like to thank all the players that have followed me, listened to me and helped me with my own creativity! They would be too many to name.