What if humanity suddenly encounters extraterrestrial intelligence on Earth?
Bohemia Interactive is excited to present: Arma 3 Contact – a spin-off expansion about the most important discovery in the history of mankind. Scheduled for release on Steam (Windows PC) on July 25, the Arma 3 Contact expansion features a military science fiction singleplayer campaign, which will arrive together with a fresh new sandbox terrain, factions, weapons, vehicles, gear, and more.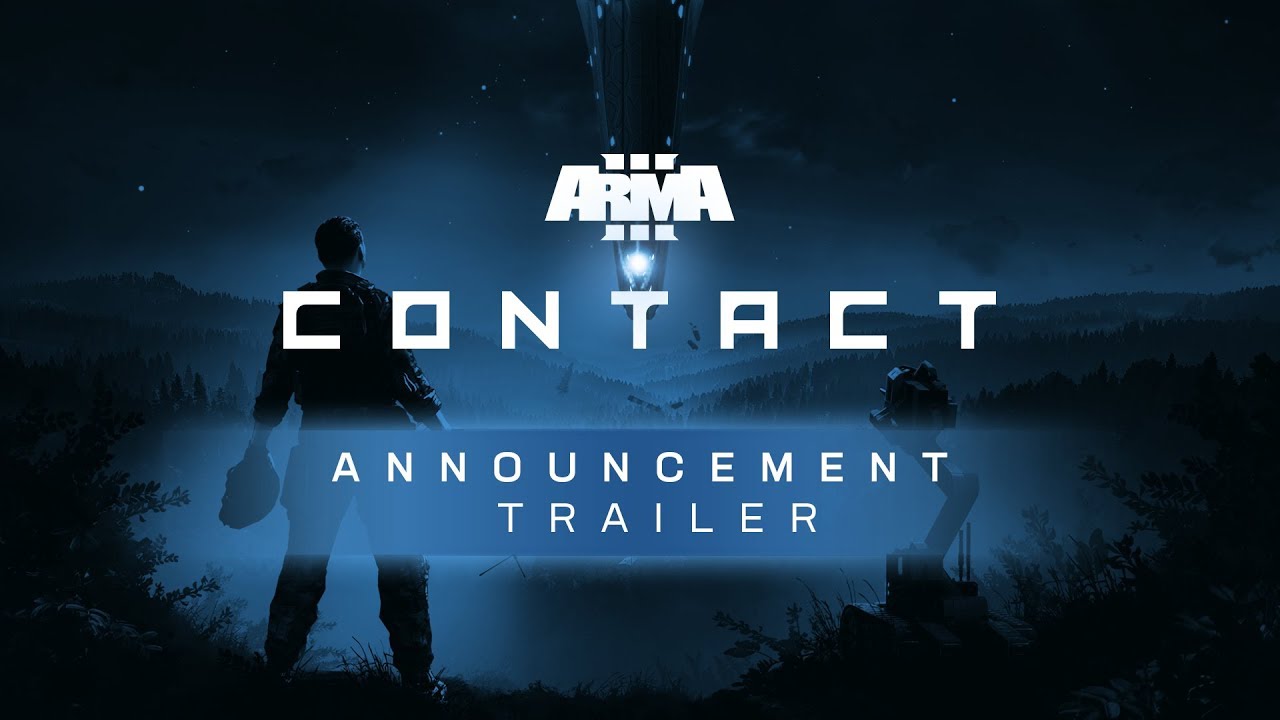 In the "First Contact" singleplayer campaign, players will assume the role of NATO drone operator Aiden Rudwell, who is deployed to Eastern Europe as part of a military training exercise. When a massive alien vessel suddenly enters the atmosphere, you are sent to investigate the extraterrestrial visitors and determine their intentions. However, amid the tension and chaos, armed conflict inevitably unfolds. Over the course of the campaign, players will engage in field science, electronic warfare, and combat reconnaissance, in an experience delivered in authentic Arma style.
Although conventional infantry engagements can be expected, a significant portion of the campaign will focus on non-shooting gameplay. This involves operating a mini UGV sampling laser and CBRN defense equipment to study strange alien anomalies, as well as controlling the electromagnetic spectrum with the aptly named Spectrum Device. This advanced modern tool – depending on what antenna is fitted – can be used for navigation, intelligence gathering, and deception.
Besides its story-driven campaign, the upcoming Contact expansion also brings various additions to the greater Arma 3 sandbox. One highlight is the massive new 163 km2 terrain set in the fictional Polish-speaking country of Livonia. With this new locale come two smaller yet capable fighting forces: Livonian Defense Force and Russian Spetsnaz. These new factions are equipped with their own combat fatigues, vests, and helmets. Furthermore, the expansion packs 5 additional weapons, 2 new vehicles plus variants, extra gear, and more.
"Many of us have wondered if humanity is alone in the universe. I, for one, want to believe we are not. The premise of intelligent life visiting Earth from outer space has fascinated me since childhood, and combining that with the military authenticity of Arma 3 always seemed like it would make for a very cool and unique experience. After our team's previous project – Laws of War DLC – proved that players enjoy gameplay that's a little different, our team felt motivated to go for it. I am personally very grateful for the opportunity to explore this theme, and I want to thank all Arma 3 players for their support and making it possible for this dream to come true." Arma 3 Contact Project Lead, Joris-Jan van 't Land.
Key Features of Arma 3 Contact
Singleplayer campaign "First Contact" – You are a member of a NATO training deployment to a remote region of Livonia, presented with a mysterious event that will forever change the face of human history.
163 km2 Livonia terrain – A temperate summer environment set in a partly abandoned militarized region of the (fictional) Eastern European country of Livonia.
2 Factions – Livonian Defense Force and Russian Spetsnaz, who are equipped with their own gear, and made complete with reskinned variants of existing Arma 3 assets, new character faces, and Polish or Russian radio protocols.
5 Weapons – Promet Assault Rifle, RPK-12 Light Machine Gun, AKU-12 Carbine, Mk14 Classic Hunting Rifle, and Kozlice Shotgun – most of which come with various attachments and camo paints.
2 Vehicles – ED-1 Mini UGV (a small electric tracked robot with a modular chassis and swivel arm that comes in both a Science and Demining variant) plus the Tractor.
Gear – CBRN clothing, masks and backpacks, Spectrum Device, radio backpack, blindfold, and tin foil hat.
Multiplayer Scenarios – Additional Zeus Game Master, Combat Patrol, and Warlords scenarios for the new Livonia terrain.
Free Bonus Content – NATO woodland camouflage, civilian clothing, 100+ decorative props and terrain objects, and more. These will be made available for free to all owners of Arma 3.
The Arma 3 Contact expansion is scheduled for release on July 25 and will be distributed as DLC for Arma 3 on Steam. It is already available for pre-purchase on Steam and the Bohemia Store for 24.99 EUR / 27.99 USD / 21.99 GBP (with a temporary 10% discount up until one week after release). Those who pre-order will also receive Sneak Preview Access to the new Livonia terrain as of today.
People who are entirely new to Arma 3 can also decide to pick up the Arma 3 Contact Edition on Steam or the Bohemia Store, which bundles the Arma 3 base game and Contact expansion at a much lower price than when both are bought separately. Fans might be interested in the Bohemia Store-exclusive Arma 3 Contact Collector's Edition (available here). This limited-edition also includes the base game (Deluxe Edition) and Contact expansion, plus more than five unique collector's items such as a rugged field case, topographic map, two-way radio transceivers, tin foil hats, and more.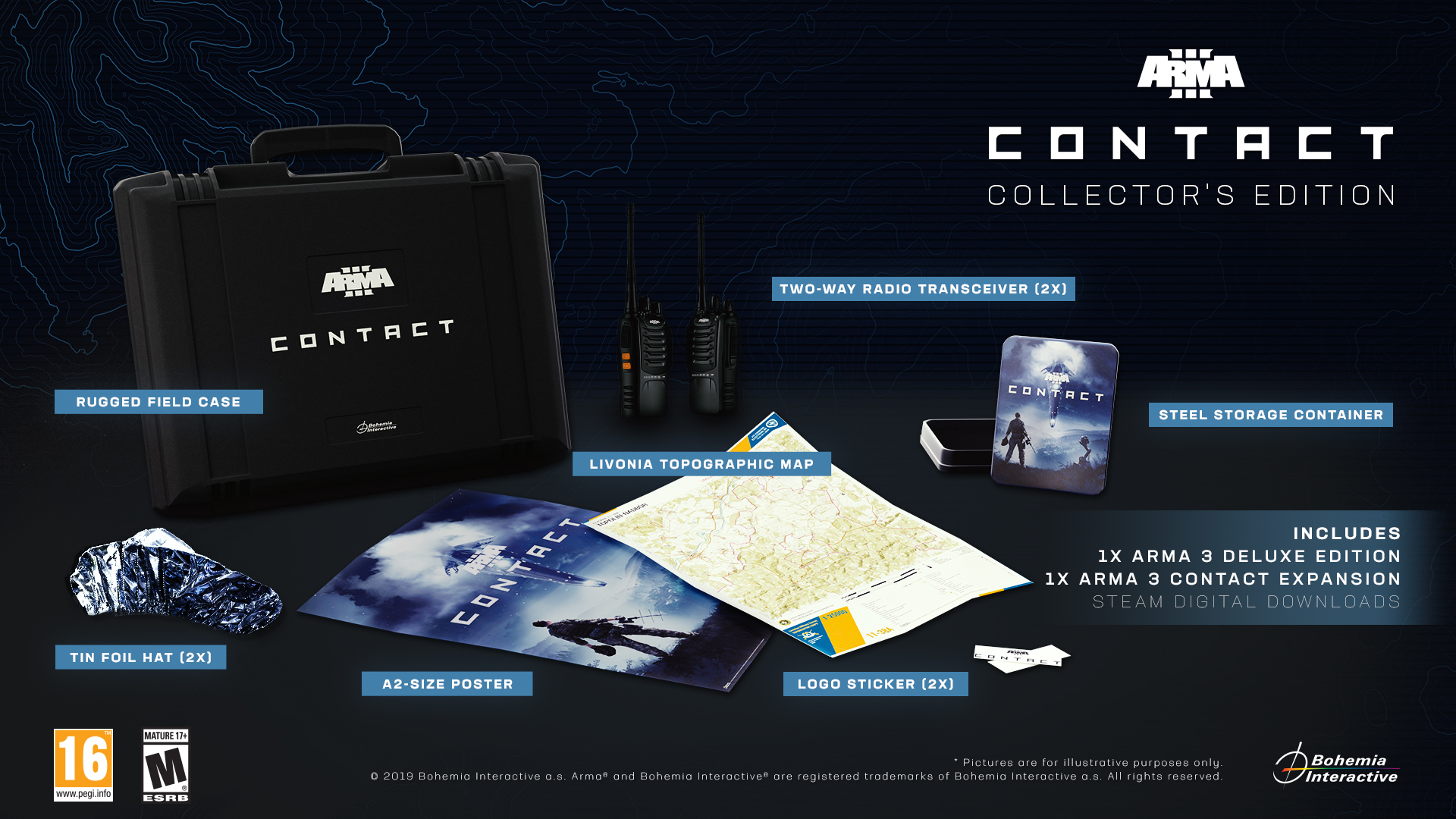 For more information about Arma 3 Contact, visit www.arma3.com/contact. Here you will also find the system requirements for Arma 3 and answers to some of the most Frequently Asked Questions about the new expansion.