This Saturday April 16th, starting at 18:00 PDT (21:00 EDT / April 17th, 01:00 UTC/03:00 CEST / please click here for all time zones), Bohemia Interactive will be hosting the first ever 'Arma 3 #milsim Live Stream', featuring the Arma community group 21st Ranger Regiment.
Providing a first hand demonstration of high-level military roleplay in Arma 3, this special event will offer a demonstration of co-operative milsim gameplay as we join the 21st Ranger Regiment on one of their operations. The stream will kick-off with a briefing, which will lead into the AO deployment, and continue by spectating the 40+ players taking part in the mission. During the event, we'll also be discussing what it takes to set up an event like this, talk about the mods that are used, how to form or join a (milsim) unit, and more.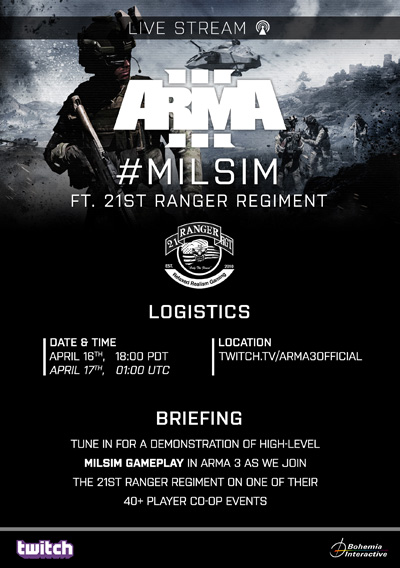 Special guests in the stream will include the leader of the 21st Ranger Regiment, Vegas (@21stRangerRGT), and one of the creators of the popular Arma 3 ALiVE mod, Friznit. They will be accompanied by our very own Arma 3 Community Developer Greg Becksted (@BohemiaBeck) and QA Assistant Adam Hurta (@Adam_BIS).
The session is expected to be about two hours and will be streamed to the official Arma 3 channel on Twitch. The recording will be available later on Arma 3's Twitch Profile Page under Past Broadcasts and should be uploaded later to the Arma 3 YouTube Channel.
So, if you're curious about Arma 3 milsim gameplay, but perhaps never had the chance to experience it yourself, be sure to tune in on Saturday (or Sunday, depending on your time zone)!
*Although we'll do our best to ensure a smooth live stream, please note that, as all participating players are logging into the server from different locations, and the audio and video feeds are being transmitted across two continents, connection issues during the stream may occur. If this happens, we kindly ask you to please bear with us. We hope you'll enjoy the stream!