Following its reveal a few weeks ago (watch trailer), Bohemia Interactive today announces the official release of the Laws of War DLC for Arma 3. This new package lets players explore a different perspective on the battlefield in a story-driven singleplayer mini-campaign, and enriches the Arma 3 sandbox via the addition of a humanitarian faction, van, drone, clothing and gear, and more. To further introduce the DLC, Bohemia Interactive shared a new developer diary video, in which Arma 3's Creative Director Jay Crowe and Project Lead Joris-Jan van 't Land examine the new content, discuss the origin of the project and its development process, and talk about the studio's collaboration with the International Committee of the Red Cross (ICRC).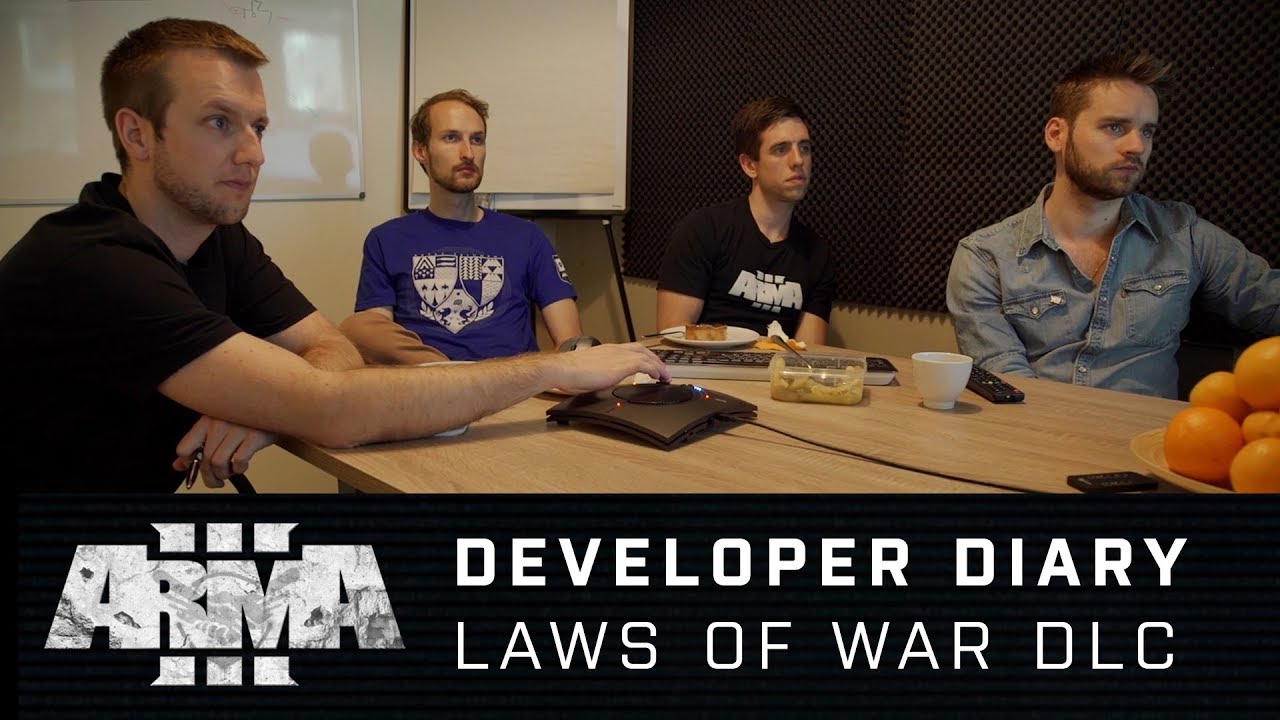 Instead of imposing any gameplay limitations, the Arma 3 Laws of War DLC aims to help players develop their understanding of International Humanitarian Law (IHL) by placing a stronger emphasis on the consequences of their actions. This is also one of the central themes in the "Remnants of War" mini-campaign. Here you take on the role of EOD specialist Nathan MacDade, who is tasked with deactivating mines after the war on the Republic of Altis & Stratis has ended. While being interviewed by an investigative journalist, you uncover what happened in the town of Oreokastro via memory fragments that let you experience the perspective of various sides, ranging from a NATO soldier, to a CSAT special operative, FIA guerrilla fighter, and local car mechanic.
On top of the mini-campaign, the Laws of War DLC adds a variety of new premium character outfits, vehicles, and weaponry to Arma 3's sandbox. This includes the IDAP humanitarian faction (multiple character outfits), a van (multiple variants with over 20 liveries), utility drone (different variants used either for cargo transport or demining operations), the controversial APERS Mine Dispenser weapon system, new vests, bags, head gear and face wear, a paramedic outfit, time trial challenges, and more. The DLC is supported by a major free platform update, which delivers free new content and gameplay feature extensions to everyone who owns Arma 3. Its highlights include refined cluster strikes, the simulation of Unexploded Ordnance (UXO), improvements to the identification and deactivation of mines, the ability to drop custom informational leaflets from the sky using the new drone, a wide variety of emergency and medical supplies, faction-specific cluster bombs and bomblets, and many new decorative objects such as shelter tents and new furniture. In line with Bohemia Interactive's existing DLC strategy for Arma 3, players who do not own the DLC will still be able to join multiplayer servers that make use of its premium content. However, some restrictions to the usage of the premium content will apply.
Last but not least, as part of the free platform update, there are also two free new Showcases available for all Arma 3 players. These individual scenarios serve as an introduction to the DLC's theme and the new IDAP faction. In Showcase IDAP, you are a reporter visiting one of organization's open days on Altis. Here you can learn more about IDAP's history and activities. In Showcase Laws of War, you are a soldier attending one of IDAP's instructional courses, in which you can run through three virtual training simulations that explain some of the basic principles of International Humanitarian Law.
The Arma 3 Laws of War DLC is now available for purchase on Steam and the Bohemia Store for € 9.99 / $ 11.99 / £ 8.99. Half of Bohemia Interactive's net revenue from direct sales (not as part of bundles) of the Arma 3 Laws of War DLC in 2017 will be donated to the International Committee of the Red Cross (ICRC). The total amount raised will be announced on www.bistudio.com in 2018.
For a complete overview of the Arma 3 Laws of War DLC, please visit the official website at https://arma3.com/dlc/lawsofwar. If you wish to learn more about the project and its development, we also recommend you to read the 'OPREP: Laws of War' devblog.