Bohemia Interactive today released the Arma 3 Helicopters DLC – the second premium DLC for Arma 3. Featuring the highly detailed CH-67 Huron and Mi-290 Taru, the DLC adds new helicopters, the Sling Loading showcase scenario, and helicopter Time Trial challenges.
The CH-67 Huron is a twin-engine, tandem rotor heavy-lift helicopter. Its primary role is the transportation of troops, vehicles and cargo – and is available in both an armed and transport variant. The Mi-290 Taru is a heavy utility helicopter with coaxial rotors and a unique modular construction. Various mission pods enable the Taru to serve many different roles. It can transport cargo, troops, and provide battlefield supplies (ammunition, fuel, repair facilities, and medical equipment). Both helicopters are also capable of sling loading, which is a brand new feature in Arma 3 - and is further demonstrated in the premium Sling Loading showcase scenario. The Helicopters DLC also features four exclusive Time Trials, where helicopter pilots can show off their skills by winning the gold medal.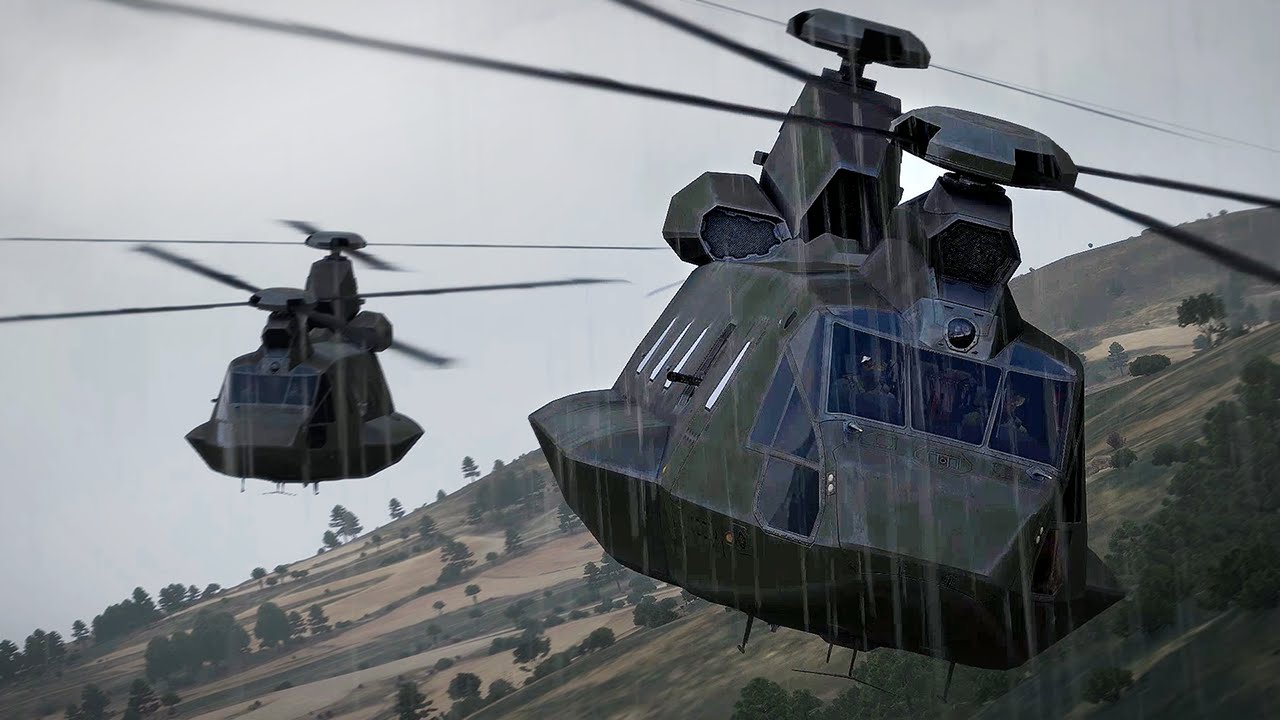 The Helicopters DLC is supported by a free Arma 3 platform update - released today alongside the Helicopters DLC. The 1.34 update includes the brand new Support multiplayer mode, where players need to provide various types of helicopter support – such as troop transport and medevac – in a Sector Control multiplayer scenario. In preparation of the new multiplayer mode, players can enroll in the brand new VR Training helicopter stages, and learn the ropes of rotary flight. In addition, Arma 3 content creators will be happy to learn that a variety of new in-game objects, ranging from landing platforms to military decorations and more, have also been added in the new update.
The Arma 3 platform update also introduces several major new features to Arma 3. For instance, players can now choose to enable the optional RotorLib helicopter flight model, which is an upgraded version of the flight model used in Bohemia Interactive's Take On Helicopters, and provides an even more authentic helicopter flight experience. Furthermore, the platform update includes the aforementioned new ability to sling load cargo, which places a stronger emphasis on the importance of logistics on the battlefield. Last but certainly not least, the update implements the much-anticipated firing-from-vehicles feature - enabling passengers to engage targets while seated in a vehicle.
"With this DLC, we've turned our attention towards enhancing helicopter flight, but there's much more to it than that alone. With our new features and content, combined arms gameplay in general has benefitted, and the Arma 3 platform is all the better for it!", said Jay Crowe, Creative Director on Arma 3.

The Arma 3 Helicopters DLC is now available for 12.99 EUR/10.99 GBP/15.99 USD on Steam and Store.bistudio.com. People can save 25% by purchasing the Arma 3 DLC Bundle, which includes the Arma 3 Karts, Arma 3 Helicopters, and the upcoming Arma 3 Marksmen DLC, for 19.99 EUR/16.99 GBP/24.99 USD on Steam and Store.bistudio.com.
*The Arma 3 Helicopters DLC is part of the Arma 3 DLC Bundle and Arma 3 Supporter's Edition (Supporter's Edition is no longer available for purchase). The Arma 3 Helicopters DLC is not included in the Arma 3 Digital Deluxe Edition.