Following its reveal in May , today we've published a brand-new trailer for the upcoming Arma 3 spin-off expansion, Arma 3 Contact – which is scheduled for arrival on Steam on July 25, 2019.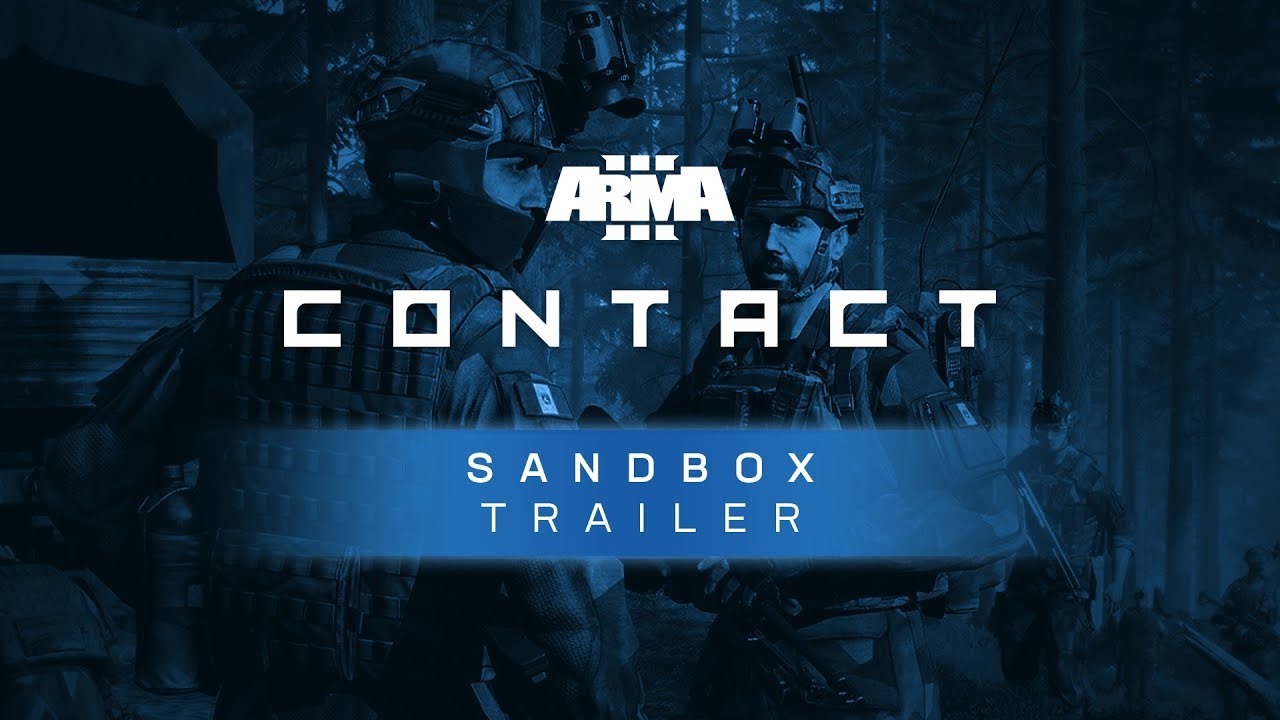 Narrated by Game Designer Scott Alsworth, the new trailer goes beyond Arma 3 Contact's extraterrestrial components – such as its military science fiction singleplayer campaign – to present a showcase of all the other sandbox assets that the Contact expansion will deliver to the wider Arma 3 platform, including a massive terrain, new factions, weapons, vehicles, and more.
The largest addition is a 163 square kilometer Eastern European terrain, which covers the partly abandoned Nadbór region within the larger Polish-speaking country of Livonia. This temperate summer environment is characterized by its many coniferous forests, open wheat fields, towns, railroads, the Biela river, and many interesting landmarks such as an old munitions factory, an abandoned radar station, and dozens of old bunkers from World War II.
To support the new locale, Arma 3 Contact will introduce two small-yet-capable new factions to the game. These are the local Livonian Defense Force and the Russian Spetsnaz. Each of these will be equipped with their own gear and have access to a customized arsenal, and will be complemented by new character faces, as well as Polish or Russian radio protocols. Moreover, the expansion will add 5 new weapons and an unlikely pair of new vehicles in the form of the Mini UGV and Tractor.
In response to first contact, there will also be various new game assets that are more closely connected to the theme of Arma 3 Contact's singleplayer campaign. These might have scripted gameplay functionality within the campaign, but will still be available as cosmetic-only items to players and content creators for use in the Arma 3 sandbox (e.g. multiplayer and scenario editor). Perhaps the most striking of these additions is the gear related to CBRN defense, consisting of over-garments, face masks, and breathing apparatus backpacks.
Lastly, Arma 3 Contact will bring along a variety of free bonus content for everyone who owns Arma 3. Specifically, NATO forces will be able to make use of a new woodland camouflage option providing better concealment in the Livonia terrain. Meanwhile, the local civilian population will see its wardrobe expanded with new outfits for farmers, looters, and scientists. To reinforce content creation, all Arma 3 players will receive more than 100 new terrain assets and decorative objects to use in their projects.
Not shown in this sandbox trailer is the headline act of the spin-off expansion: the story-driven "First Contact" singleplayer campaign. Here, the player will take on the role of NATO drone operator, Aiden Rudwell. When a massive alien vessel suddenly enters the Earth's atmosphere, Specialist Rudwell joins an improvised taskforce and is sent out to investigate the extraterrestrial presence. However, amid the tension and chaos, armed conflict inevitably unfolds.
Arma 3 Contact is expected to land on July 25 and will be made available as DLC for Arma 3 on Steam. People can already pre-order the expansion on Steam and the Bohemia Store for 24.99 EUR / 27.99 USD / 21.99 GBP (plus a temporary 10% discount until one week after release). This will also grant them immediate Sneak Preview Access to the new Livonia terrain, weapons, and more.
Those who are new to Arma 3 might want to get the Arma 3 Contact Edition or the recently introduced Arma 3 Ultimate Edition, which bundle the Arma 3 base game with Arma 3 DLC at a heavily discounted price. Fans might be interested in the Bohemia Store-exclusive Arma 3 Contact Collector's Edition (available here). This limited-edition includes the game and expansion, and more than five unique collector's items such as a rugged field case, topographic map, two-way radio transceivers, tin foil hats, and more.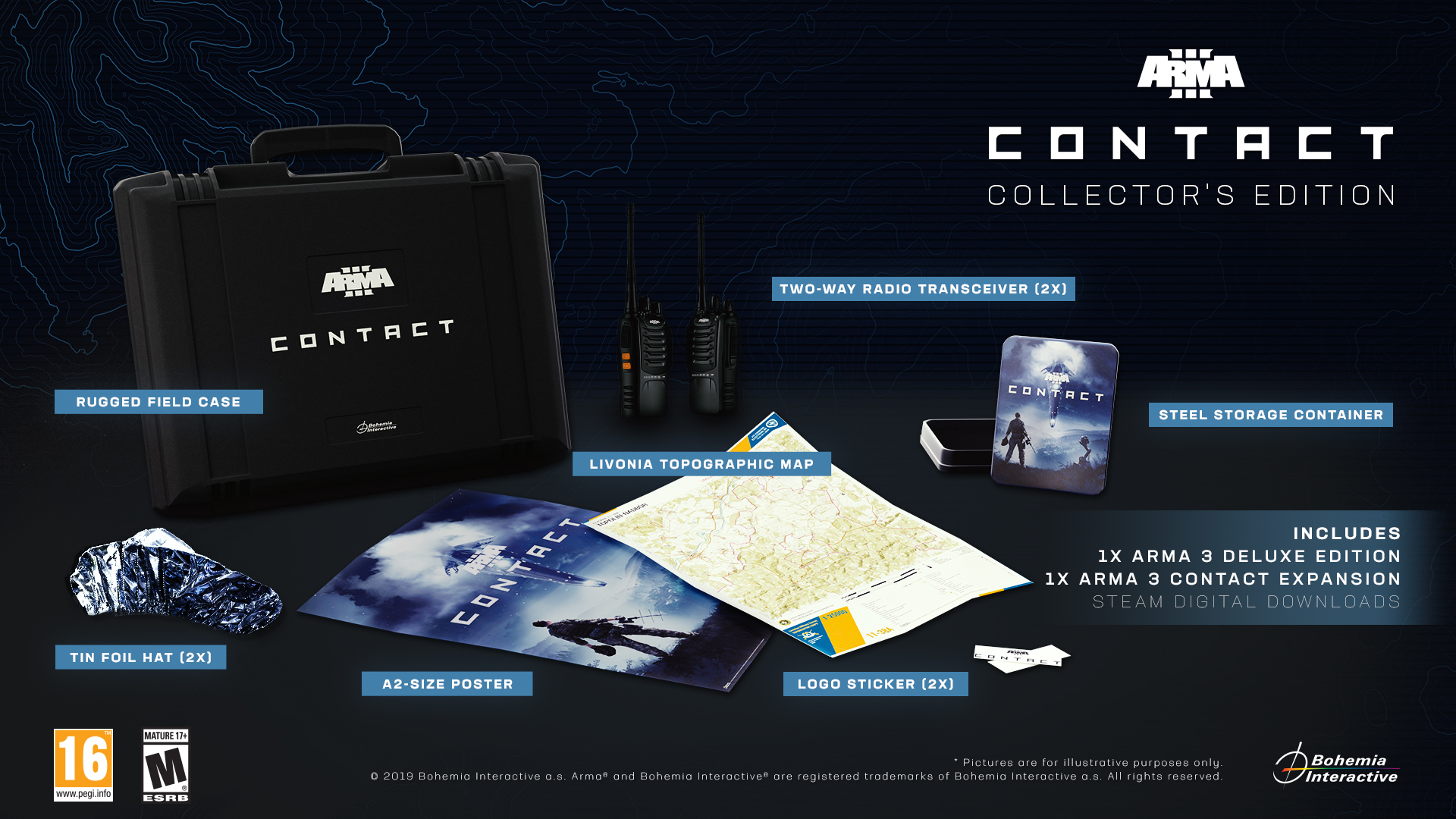 For more information about Arma 3 Contact, visit www.arma3.com/contact. To keep track of all the latest news, also be sure to follow Arma 3 on Facebook, Twitter, YouTube, and Steam.