After an extensive pre-flight check on Dev-Branch, the Arma 3 Jets DLC is almost ready to land onto your hard drive. Whether you're a milsimmer, mission maker, fixed-wing enthusiast, or someone who just can't get enough of the 'Danger Zone', there's a lot to look forward to. So, in anticipation of the release, let's don our g-suits, and take a closer look at 10 of our favorite things about the Jets DLC.
1. F/A-181 Black Wasp II
Inspired by the real life F/A-18E and F-22A, the Black Wasp is NATO's top tier fighter jet. It's said to be superior when it comes to air-to-air combat, but also has excellent ground attack capabilities. Moreover, the aircraft is designed for aircraft carrier operations, which means it can be deployed nearly all over the globe. Needless to say, this is the big daddy among fighter jets.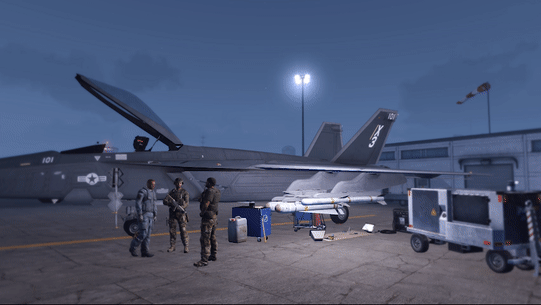 2. To-201 Shikra
The To-201 Shikra is a fifth-generation, single-seat, twin-engine, tactical fighter jet - inspired by the real life T-50 PAK FA and Su-35. One might call this CSAT's and Russia's response to the Black Wasp. With its pointed shape, the Shikra pierces through the air, making it one of the most nimble aircraft of its class. It's able to support various combinations of missiles, rockets, and bombs via its conventional pylons, but it also has an internal weapons bay, enhancing its aerodynamic and/or stealth potential.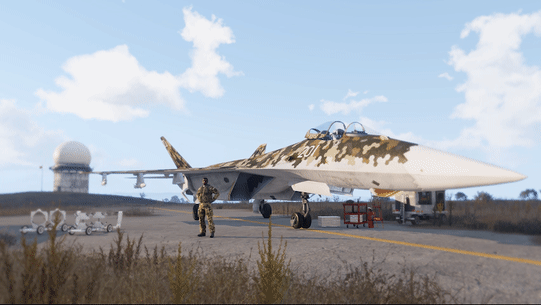 3. A-149 Gryphon
The A-149 Gryphon is one of the older airplanes in the Jets DLC package. Its iconic shape reminds of the JAS-39 Gripen, thanks in part to its distinctive small forewings. The Gryphon was designed to be a multi-role platform at an affordable cost, and despite its ageing foundation, it has still been upgraded with the newest sensors and weapon systems. In the end, it's just super cool and a beauty to look at. What else is there to say?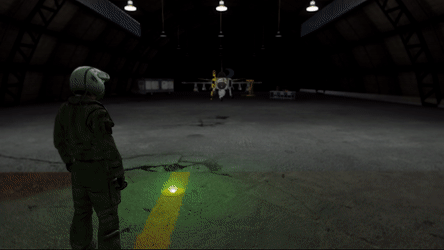 4. Sentinel
Is it a drone, is it a jet? It's both! The Sentinel is a state-of-the-art Unmanned Combat Aerial Vehicle (UCAV) operated by NATO. The aircraft is primarily designed for reconnaissance but can also perform precision ground attacks. Its flat and angular shape makes it harder to detect on radars, which is perfect for identifying potential targets for future attacks. The Sentinel can also be deployed from an aircraft carrier.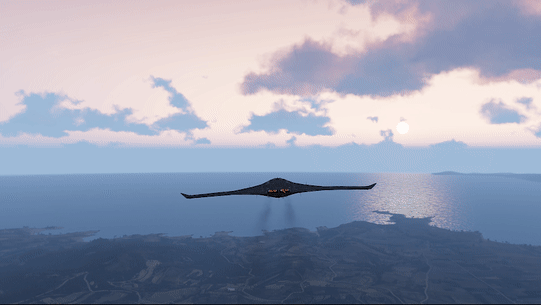 5. Sensors
The Jets DLC not only brings new premium content, but also free platform features and improvements for everyone who owns Arma 3. The highlight new feature this time around is the "Sensor Overhaul". While the exact functionality of this is quite detailed (see OPREP - Sensor Overhaul), the short summary is that Arma 3 will make use of a new radar interface, powered by advanced Active Radar and Infrared sensor technology. This makes for a much better simulation of target detection, resulting in more authentic and fun vehicle warfare. The Sensor Overhaul not only applies to jets, but also to tanks, helicopters, anti-air platforms, and various other weaponry in Arma 3.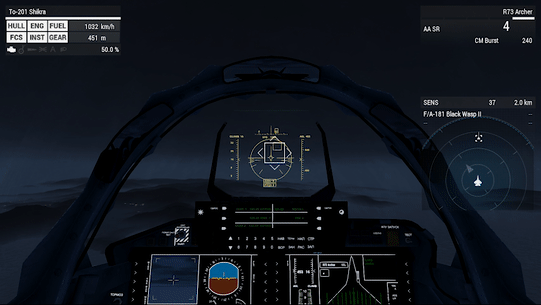 6. Hitpoints
Another free platform improvement is the upgrade of our fixed-wing damage model to the level of detail of other vehicle classes in Arma 3. New hitpoints and damage effects have been added so that being hit by enemy fire does not immediately mean the end. Of course, an engine failure, a fuel leak, or a malfunctioning HUD will make it much harder to return back to base in one piece. So buckle up, and be sure to use your new radar!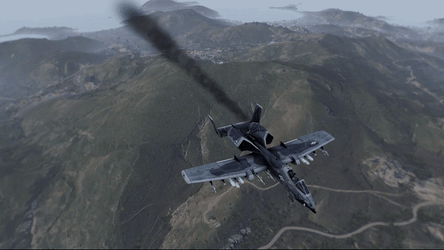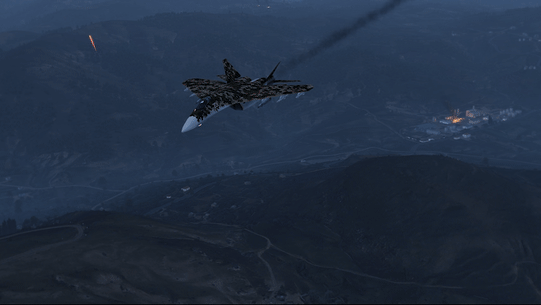 7. Dynamic Vehicle Loadouts
As requested by many people in the Arma community, you can now customize your vehicle's armament. In the case of jets, it means you can choose what ordnance is mounted to each pylon. As a result, you can bring exactly that what you need to carry out your mission. Just like many of our platform features, Dynamic Vehicle Loadouts has been designed to be compatible with other vehicle classes in Arma 3. This means that also your favorite Arma 3 addon creators have the option to implement this new functionality in their assets.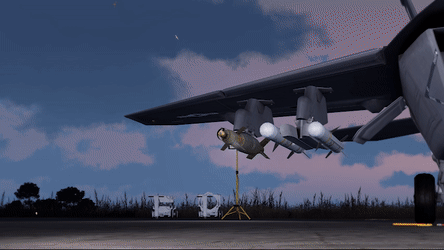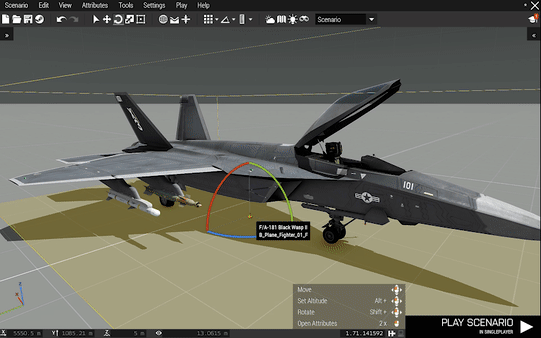 8. Showcase Fighter Jets
As is something of a tradition for most of the new things we introduce, the Jets DLC will be accompanied by a new Showcase scenario. Here, players can enjoy a quick introduction to some of the new content and features. Bring your aviators, pack some cigars, and step into the shoes of a fighter pilot to become a Top Gun.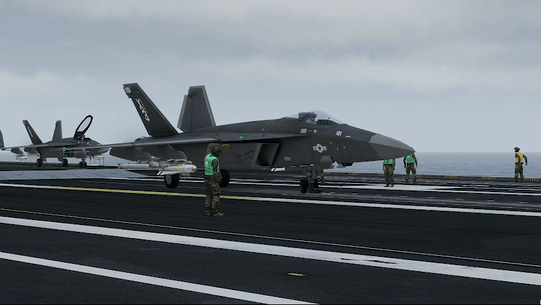 9. BRAVO ZERO ONE Studios
The Jets package is special in many ways, including how it's been produced. Specifically, this is the first DLC to be developed in partnership with a third-party development studio: BRAVO ZERO ONE Studios. This external team, led by Make Arma Not War winner Joshua "Saul" Carpenter, has lots of experience with Arma 3 content making, specifically jets. So, with this DLC, we've bundled our forces to make the very best DLC jet/yet! Curious about our collaboration? Be sure to check out OPREP - Jets DLC.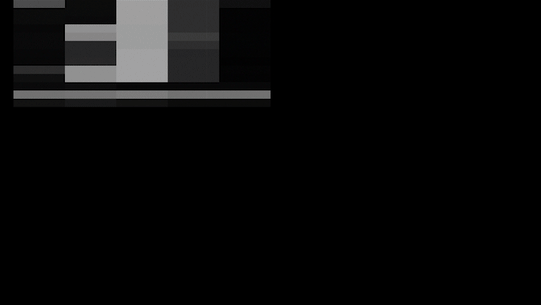 10. CVN-83 "USS Freedom" (Aircraft Carrier)
It's happening! Available as free bonus content for everyone who owns Arma 3, the Jets DLC will be accompanied by the "USS Freedom". This nuclear-powered aircraft supercarrier, operated by NATO, is the largest warship ever built. In-game, the carrier is a static object, which can be anchored across the map via the 3D Scenario Editor, but cannot be 'driven'. It supports catapult take-offs and tailhook landings, and features autonomous defensive weapon systems. In terms of functionality, it represents a major step up compared to Arma 2's aircraft carrier.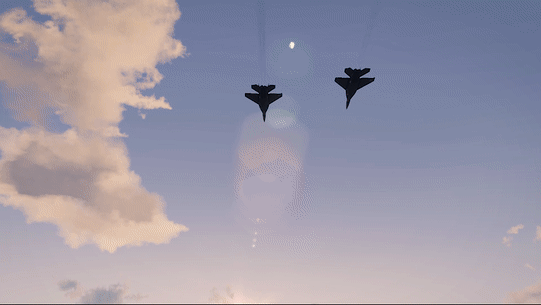 All in all, the Arma 3 Jets DLC is set to drop something for everyone, both in terms of premium content and free platform features. The official release date is May 16th 2017, but if you pre-order the Jets DLC or purchase the Arma 3 DLC Bundle 2, you can already try out the new jets (and the other content) on Arma 3's Dev-Branch. Want to know more? Be sure to fly by the Arma 3 Jets web page and read our latest OPREPs. See you on our radar!