Although Arma 3 Tac-Ops is still hot-out-of-the-oven, the relentless Arma 3 art department have been cooking up yet another treat! With Tanks DLC next on the menu, we asked Head Chef Lead Artist, Luboš Groch, to let us peek into his kitchen, and dish up some fresh intel in a new Report In™ dev interview!
We're often asked to let some of our people talk about what it's like to develop a game at BI. 'Report In!' gives you a more personal perspective on our team, a more detailed look at the way we go about our work, and fresh information about our ongoing projects.
An exciting key feature of the upcoming Tanks DLC is the addition of fully-modeled interiors for armored vehicles, which will be made available as part of a free platform update associated with the Tanks DLC release . Without a doubt, this stands to enrich the experience of controlling these beasts on the Arma 3 battlefield. As such, together with today's Dev-Branch roll-out of interiors for three existing APCs, we ask Lubos about his work, and how it stands to enhance Arma 3's diverse military sandbox.
Introduction
Tell the people a little about yourself. What's your role? How long have you been with Bohemia Interactive? Which projects have you contributed to, and what is your favourite BI game or mission?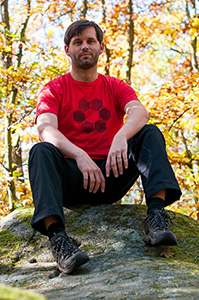 Hi, my name is Luboš Groch, and I've worked at Bohemia Interactive since February 2014, almost exclusively on our flagship game, Arma 3. Like most of the people in the team, I was amazed by Operation Flashpoint years ago, so being able to participate in the development of the Arma series fascinated me before - and still fascinates me now, even four years after the official release of Arma 3.
My role is Lead Artist, and I'm currently working with a group of talented and enthusiastic artists located in Mníšek and partly in Pattaya, Thailand, to create a splendid and, above all, entertaining new DLC for Arma 3. If I had to choose one favourite game from BI (except our beloved child Arma), I'd pick the newly released Ylands, because it has the potential for almost never-ending entertainment.

And can you give us some random facts about yourself?
Previously, I was an industrial designer who, paradoxically, didn't really like industry (I mean heavy industry and its impact on environment). I love the creation of nice, smart, clean and yet functional shapes, and playing with lights and shadows. I admire nature, where all of this works naturally, but even people are able to use similar principles, for example, in the aircraft design process. Does the modern and features-based design of F-35 have a completely sexy shape? In my opinion, it has!
Inside Out
Arma 3 Tanks will introduce fully-modeled interiors for armoured vehicles. Can tell us a little bit about that?
The absence of interiors in current armored vehicles was perceived to be the 'missing piece' of the puzzle we will now bring as part of an upcoming free platform update related to the Tanks DLC. That means a little under 20 unique vehicles and their variants will have fully-modeled interiors.
As far as the interiors are concerned, it will not just be a boring flat texture, but immersive richly detailed spaces, which will bring a whole new layer of gameplay. Beside that, we are also working on some completely new assets for this DLC, which should be very specific for enriching a wide range of sandbox toys and complete our tanks-themed package. We'll share more info early next year.
What does the process of creating an interior look like? What departments / disciplines are involved?
In the beginning, we had to define the level of quality that we wanted to achieve. It wasn't only about the interiors looking nice, but we wanted the player to have a reason to stay and play from the first-person interior perspective because of gameplay reasons, too. Together with our colleague Artem, we have set up working procedures that ensure a satisfactory interior quality. To make it all happen on time, we've even assembled a small rendering farm for baking lightmaps.
Because this DLC is far from being only about interiors, colleagues Mário, Honza, Marrtor, Darkon and several other artists from Thailand have worked on other content, too. We have often encountered the limitations of our technology, but with the huge support of Katarina and Jirka from the encoding department - and the patience of our programmers - we have been able to push the boundaries of our interiors beyond what we initially set out to achieve.
What would you say are the most significant challenges involved in creating an interior?
It was not easy to find a balance between the level of detail and the speed of production, due to the number of interiors that had to be created within a limited time. We also ran into technical limitations, which we had to push continuously with other departments, while also working on other graphical tasks that take us some time.
Tanks Very Much
Dev-Branch players now have an opportunity to try three APCs with newly modeled interiors. Can you give us any hints about what else they can expect for Tanks DLC?
As the name of the DLC suggests, everything will more or less relate to tanks. I don't want to be too specific yet, because the development is still ongoing. But I would like to emphasize at this point that already releasing a few vanilla APCs with new interiors now to the Arma 3 Dev-Branch is a great opportunity for us to collect feedback directly from the players. We are open to the community and we look forward to your experience.
As for the interiors of all tanks (yes, we are working on "Tanks" DLC :-) ), players can expect similar if not better level of quality . And, as I mentioned before, Tanks DLC will not only be about interiors, but also about another new content, enhanced functionality and enrichment of the platform itself.
How long have you been working on Tanks DLC?
Work on the first version of the 'prototype' interior and the new assets began around February this year, while the 'real' production of interiors began sometime in April, and we are still working on it now.
What's it like having your very own pet tank, Edita, in the back garden of the Mnisek studio?
Well, who else can tell you that they have a 12 cylinder diesel in their garden with more than 800 horses under the hood? It's a damn good feeling! What's more, we are probably the only game developers who can drink real ' tank beer' at our company parties!
Besides being an adult-sized jungle gym, this is, of course, an excellent reference and a very valuable source of inspiration. Every time I sit in the tank, I admire the crews who were able to perform their combat missions in such cramped and completely non-ergonomic spaces.
General Questions
If you had to name just one piece of work that you and your department have really enjoyed working on Arma 3, what would it be?
Everything is now focused upon Tanks DLC, but maybe I wouldn't just highlight one moment, but I think our whole team has most enjoyed the positive reactions from players, and hopefully the best moments are still awaiting us!
But, I have to say, that the first thing this question brings to mind wasn't the work on Arma itself. Rather, it is the creative atmosphere of friendly colleagues in the unique setting of a former holiday cottage with original genius loci. This inspirational environment certainly has an effect on what Arma 3 is today.
The tankpocaplyse is upon us! Armor rolls through towns and villages all across the land, and all of the A-10 Tank Busters are lost. In the face of this heavy metal hell, you must flee into the mountains! What one game do you take with you?
If it was a short tankpocalypse, I would be delighted to dust off my favorite game Another World from 1991. For a longer tankostrophy I would take the original Super Mario World . Before I die, I want to finish this masochistic game finally. So, in any case, it would be a golden oldies party.