Arma 3 hails people of every flavor from all over the world. To get to know them a little better, we're hosting a series of mini-interviews with some of our amazing community members. These aim to give you a personal insight into their backgrounds, why they got into Arma, and how they typically experience the game. In this issue of our mini-interview series we had a chat with one of our Chinese community members, Leopard Alter, who usually plays large-scale team operations.
BIO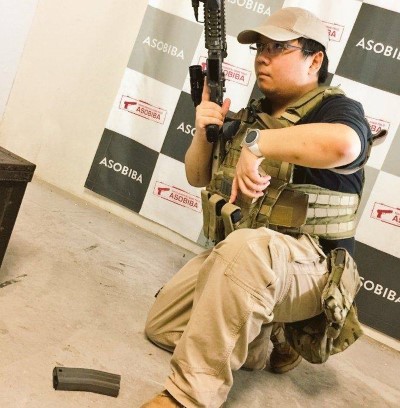 Name: James
Nickname: Leopard Alter (@LeopardAlter)
Age: 25
Location: Hong Kong, China
Occupation: I.T. System Administrator
BASELINE
Can you provide us with one random fact about yourself?
I can speak 4 languages (Cantonese, Mandarin, English, Japanese).
What was the first Arma game you played?
Arma 3 is my first Arma game.
What is your current Arma 3 playtime?
It's 2927 Hours.
What is your favourite game of all time?
Mabinogi (2004) and Crossgate (2001).
What is your favourite movie of all time?
The Last Samurai (2003).
Do you eat pineapple on pizza?
Yes, as long as the pizza has got some meat on it (more bacon please).
Can you show us your PC setup?
5 QUESTIONS
1. How and why did you get into Arma?
When I was searching for shooting games in the Steam store, Arma 3 popped up on the front page, and I started to look at some videos of the game. I figured out that Arma 3 is a military simulation sandbox game.
As a mil-sim airsoft player, a military simulator like Arma 3 is our dream game and it was a perfect fit. What we couldn't do in airsoft we could do in Arma 3. Like long-range sniping, flying helicopters, calling in CAS and mortars, or performing large-scale operations.
The mechanics, physics calculations, and sandbox mission editor with tons of user-created content provides us the environment for mil-sim style gameplay.
2. How do you play or engage with Arma 3 nowadays?
We wanted to group players in the Hong Kong Arma community. We are working on some Joint Operations with other countries (Japan and Taiwan) these days.
We most likely engage in team development on our own team, let them know how to operate with others, and provide basic training on modern small team tactics.
After that, we are active in finding others to cooperate with so we can learn from each other, and have a more fantastic experience in mil-sim games.
3. Can you tell us about your most remarkable Arma 3 moment? (most funny, memorable, biggest achievement, etc)
As far as I know, there are only 3 teams in the Hong Kong regional community and we are one of them. We are so proud that we could communicate with Taiwanese teams and Japanese teams for Overseas Joint Ops Cooperation.
We have already joined multiple times on two of the most significant public mod servers in Japan. We also cooperated with four Taiwanese teams at the same time. Joint Cooperation is around 30 to 100 players.
It's fun to see the members communicate with other players from other countries by using simple English or Japanese phrases.
4. What is your favorite piece of Arma 3 user-created content (mod, addon, scenario, game mode, tool) and why?
Big thanks to all mod developers that provide fantastic map/weapon/scripts/gear/missions, etc... that let our game experiences be so realistic and fun!
I could not list all of our mods here, so here are some of my favorites:
5. Can you share your #1 pro-tip for any Arma 3 player?
The Arma 3 community has no borders and we always help each other out.
You will find joy in your Arma journey if you keep learning from others.
BONUS: Would you rather be famous for inventing a deadly new weapon or invent something that helps the world but someone else gets all the credit for inventing it?
Eagles are in the air. Just keep your heads up, we will be there.
CLOSING
To finish the interview, do you have anything you'd like to share with the Arma community?
Mil-sim is our lifestyle, we would like to meet and have more Joint Operations with other teams.
Contact us on Twitter @HKTFE if you're interested.