Last week Bohemia Interactive has been running an 'Arma 3 Xmas Fever Competition', where people were asked to create something festive for Arma 3. Today we're announcing the winner!
WINNER
And the prize winner is...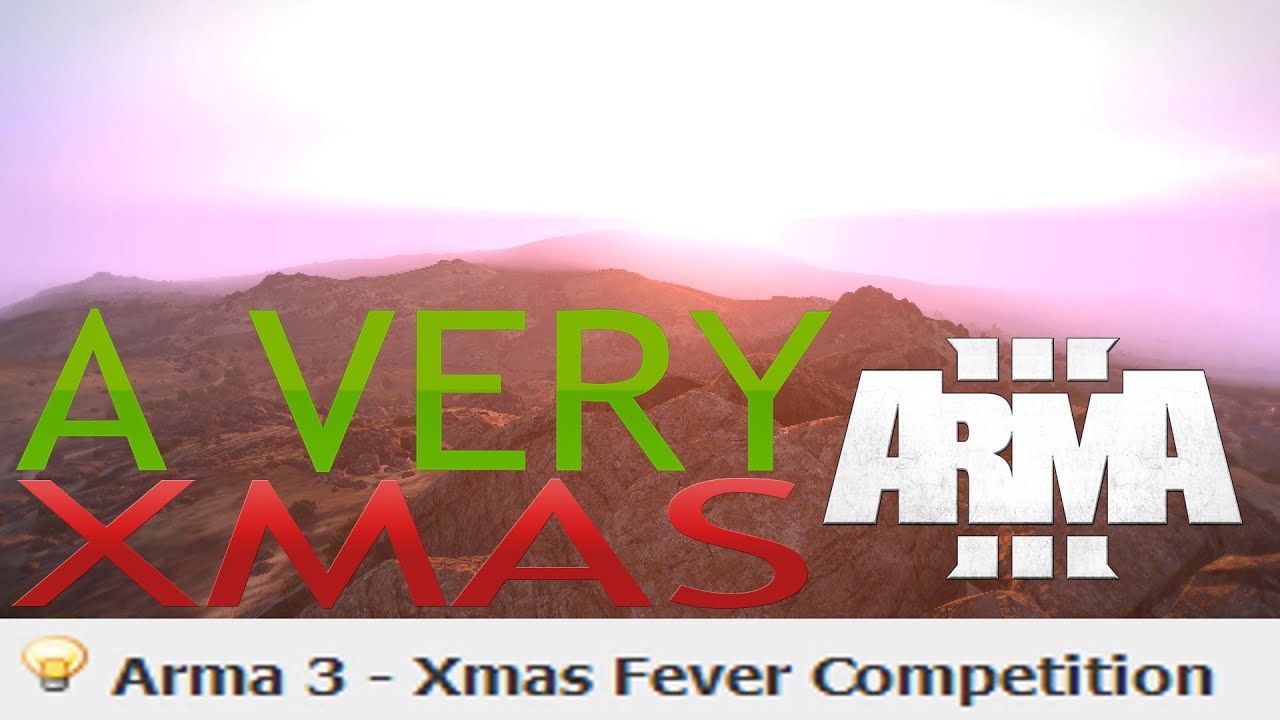 MicOne's video has earned him a printed Arma 3 Tactical guide (with signatures from the entire devteam), plus an Arma 3
t-shirt, lanyard, pen, and 32GB Flash Drive!
RUNNER-UPS
Since there were several great entries, we decided to pick four runner-ups. They'll receive an Arma 3 t-shirt, lanyard and pen.
Marcin P.
Joshua M.
Harry L.
'Twas the night before Christmas,
All players in their beds,
The launch of ArmA
still fresh in their heads,
Rewind to the Alpha,
an event that was so grand,
and even included talks
from Joris van't Land,
The small island of Stratis,
released in its prime,
permitted the game
to reach Beta on time,
With the Beta soon out,
The Devs gave us VO's,
Most of which sounded
strikingly like Jay Crowe!
The Beta arrived,
all jumped in glee,
for began to appear,
guides from Dslyecxi,
Among the release,
one landmass abyss,
otherwise codenamed
as the land of Altis!
Many noticed however,
a lack of armour there,
solved by none other
than the IFV-6c Panther,
Its rival being no worse,
the BTR-K Kamysh,
posing a threat,
just waiting to be unleashed,
It was then up to the final version,
to be of the intent,
to bring us the rest
of ArmA's epic content,
And then it was so,
ArmA's release passed,
open to all,
to have a good blast,
Tanks, Aircraft and Choppers,
more units than before,
all aiding our efforts
in virtual war,
Now there's an array,
of vehicles like the Slammer,
ready to annihilate enemies
like a metaphorical hammer,
The Cheetah and Tigris,
armed to the teeth,
causing any aircraft
to turn to minced meat,
We really should not forget,
about the artillery however,
the Scorcher and Sochor,
destroying whatever,
Alas there is more,
the Ababil and Greyhawk,
such silent UAVs,
to upon enemies stalk.
Just as we all began,
to settle with new units,
BIS announced a campaign,
which they admitted they split,
Three episodes to play through,
all sounding amazing,
the protagonists in the first
survive with a light grazing!
One can only speculate,
what the other two will be like,
and whether NATO
will put up a good enough fight?
With official content aside,
it's time for us to see,
what will be the best mods
from the community be?
Tactical or humourous,
there's something for all,
from massive full conversions,
to those mods that are small!
It's to you to decide now,
what kind of game you desire,
I merely created this poem
In the spirit of Christmas cheer,
So I hope you go and find,
what you think truly right,
Merry Christmas to all,
and to all, a good fight!
John S.
The winner and runner-ups have been notified by e-mail.
MORE
Here's a selection of the other Xmas-flavoured Arma 3 submissions. Thanks everyone for participating – and happy holidays from all of us here at Bohemia Interactive!
Eliahu B. (screenshot)

Your browser does not support the video tag.

Heikki V. (screenshot)

Your browser does not support the video tag.

Oh ArmA
Oh Arma
All the time I spend oh ArmA
You're my new friend dear ArmA
I really love you oh Arma but when you crash it's so boring
More than 500 hours close to you oh ArmA
I really want the success for you oh ArmA
And the raining days when the internt is bad i play you oh Arma
I tried to survive
I tried to adapt
But in the end i win
I went to stratis too little
But i meet Altis ohh damn so big
Ohh dear ArmA i really love you
Thanks for all ArmA .

Noscope Jedi (screenshot)

ARMA 3 CREED

This is my Arma 3 Game. There are many like it, but this one is mine.

My Arma 3 Game is my best friend. It is my life. I must master it as I must master my life.

My Arma 3 Copy , without me, is useless. Without Arma 3, I am useless.

My Arma 3 and I know that what counts in this war is not the rounds we fire, the noise of our burst, nor the smoke we make. We know that it is the hits that count. We will hit...

My Arma Game is human, even as I, because it is my life. Thus, I will learn it as a brother. I will learn its controls, Vehicles, and weapons.I will keep my Game clean and ready, even as I am clean and ready. We will become part of each other. We will...

Before God, I swear this creed. My Arma 3 Game and I are the defenders of Altis and Stratis. We are the masters of our enemy. We are the saviors of my life.

So be it, until victory is NATO's and there is no enemy.

Gonzalo H. (screenshot)
Sarah G. (screenshot)

"ARMA"-Christmaspoem

I'm dreaming of a White Christmas
with ARMA-landscapes full of snow.
Soldiers in the Holy Night
are sitting at the fireside
singing songs, which all we know.

I'm dreaming of a White Christmas -
perhaps the "sandbox" can this do:
with vehicles white
and sunshine bright?
Wish happy days to all of you!

Arma, Oh Arma
You are the best that can be,
Every time we are together,
I remember why I chose PC

Your graphics are the top
For all others to chase,
I sing your praises daily
I love to ARMA race.

Most people are blinded by your wonder,
too timid for the controls,
the ones who can pass the test
they are the ones who know

Nothing can beat Arma or it's development
It will make all other titles look like childish shit
I dream of a day when others will see
That Bohemia Interactive is the place to be

We boldly trek across the vast expanse,
Knowing that our lives can be taken at a moment's glance,
For a sniper may be hiding along the ridge,
We scout with haste and move forward fast.

Cover to cover we bound in time,
One by one we form a line,
The enemy base is just over this hill
Call in air support to get our kills

Arma is the best and every one knows,
The joy of seeing the first splash go
Because now it is time to get into gear
Mount up, move out, and kick some rear!

Carlos V. (screenshot)
Kevin P. (screenshot)

We've managed a ceasefire with OpFor
To share presents galore.
New drones and Phones
And our shooting skill we hone.
New ACOG scope,
the hacker gets a big fat nope.
And as the clock snaps to twelve,
the mortars dwelve,
as the ceasefire ends at twelve!

Mark.223 (screenshot)

HEAVENLY PEACE

Heavenly Peace is the phrase of the day And all nations seek this in their special way. Some barter, some threaten, some wait for a sign… That all will be good, promised by the Divine.

Some answer the calls of our leaders' desires To rise up and kill as soldiers for hire. We tell ourselves that we're on the right path And those against us will fall to our wrath.

And on that dark day when we take a soul's life Through hammer-through trigger or breathless wet knife We know that which many have learned the hard way That what we hold dear is made up of red clay.

It falls to small pieces…blows from us like ash We squeeze our hands tightly as memories pass The life we hold true can end as a lie As life drains before us. We'll all one day die.

Across this bright planet for thousands of years The people have perished in oceans of tears. If only the Dead have seen War's true end Then when will some large olive branches extend?

War is the frail embarrassing tale That so many quietly drown out with ale. The ones who have seen and learned to survive Now have the hard task of keeping alive…

A truth other men don't know or unlearned… A wondrous fact that once itself burned. This verity lasts despite its mute bearers Who back it all up with stories of terrors.

The truth is thus: Life is Precious and Small This comes as no impactful surprise at all. We hardly repeat it outside of a poem Or to help end suffering far from our home.

The message pales white against snow of repeating But bears our remembrance to stop it from fleeting. This holiday season when looking around Take heart at the sacrifice that makes up our ground.

Remember the blood spilled in name of whatever Recall quiet soldiers who suffer forever Recite that which we think we know too well all. The truth is thus: Life is Precious and Small.

obyan44 (screenshot)

Once upon a time, in a land far, far away there where two lone survivors.

It was christmas eve, and our friends had wondered far and long. Eventually, they came to a desolate city. As usual, the foreign letters on the road sign didn't make sense to them, but that didn't matter. Березино could mean anything, but all that mattered was that there was both an abandoned hospital and a general store there. They hadn't eaten for days, so the sight was more welcoming than one can imagine.

The local population welcomed them with their usual, soulless moan. Their endless hunger, their primal brutality and their horrible smell was so familiar for our heroes that it allmost felt welcoming. Where there the dead was walking, there was a chance for food. They had learned how to outsmart the beasts so long ago it was hard to remember how life was without them, now they felt like they've allways been there. However, our heroes have lost alot of friends to the mindless horde, so they still knew a deep respect for the soul less creatures.

"Take the back" John said to Dina, as he slipped by the high walls surrounding the small, general store. Dina nodded, then went out of sight, only to reappair inside, unlocking the front door without a word. They both gathered up in side, and started looking for stuff they could use.

Dina found a knife and a compass, John found a 4 cans of baked beans and an extra bolt for their crossbow. It was a good run this time, enough for them to find the trip worth the risk. They both snuck out the back door and headed for a nearby appartment building. The front door was open, they snuck in.

They went up the stairs and found an appartment where they could have their meal. John took out their make shift travel stove and lit it. Both of them cuddled up in front of the stove, waiting patiently for the beans to cook. Then, suddenly John saw a book lying on the floor on the other side of the room. He went to get it.

It turned out to be a photo album, and they desided to have a look together. When they opened it, they found that it was filled with family pictures from a christmas celebration. John could feel his eyes fill with water. Noticing, Dina put her arm around him and said "Yeah, I know John. I wish this was all a dream too. Do you ever think we will be able to celebrate christmas again?"

John looked at her, then said "This again, Dina? Most likely, it's not just here this plague is haunting the world... I think everyone we have ever loved and cared for is dead. The few who have survived are either like us or killing eachother over things like this" He nodded towards the can of beans. "There is no way things will go back to the way it was. The world as we know it has changed, changed for good. Christmas is just like every other day... There is nothing we..."

Then, all of a sudden they could hear footsteps down in the first floor. Both went for their weapons, and crounched down behind the doorway. Before they knew it, something heavy flew into the room, followed by a prolonged "hisssss".

The room was quickly filled with thick smoke, and it became hard to breathe. They both thought that their last hour had come. John saw pictures in his head from when he was a child, filled with thrilling feelings about all the presents under the christmas three. "It doesn't matter anymore" he thought to himself... "Nothing is going to change wether I live or die... it's just a shame that I have to die on an empty stomack"...

Then, a voice could be heard through the building. "Surrender your weapons, and you'll walk out of here alive!"

John had heard this before, several times. Surrendering your weapons usually meant an easy kill. There was no way they where going down without a fight.

"Your just going to shoot us regardless, why should we make it easy for you!" he shouted in response.

"Very well, the voice shouted back. I guess I will have to trust you not to shoot me then. How bout I surrender my weapons then?"

John was startled. He had never encountered an attacker who had surrendered when they refused too, and he was even more suprised that someone was stupid enough to give up their weapons so easily. But then again, it could be worth a shot. At least it sounded like there was only one of him, and they where two. John shouted back:

"That works. Come on up, but keep it slow and steady".

He took position at the top of the stairwell, pointing the muzzle of his Lee Enfield towards the figure moving towards him, it was clear that the figure was unarmed. He came towards him with his hands raised. The figure started to clear up, and now he could see his face.

"Martin? Is that you? We thought those bandits got you for sure?!?"

"John? What the hell... are you alone? Are everybody else dead?"

"No, but it's just me and Dina left. How the hell are you still alive?"

Dina then bursted out of her hiding spot, giving Martin a big hug.

Martin looked at them, then told them about how he was shot by the bandits chasing them, how the bandits had taken everything he had, before leaving him to die alone, cold and afraid only four days ago. Then he continued telling about a strange man, calling himself doctor wasteland, who had come out of nowhere to give him medicine, food and gear. Then, the next day when waking up, the mysterious stranger was gone. All that he left was a note saying "Marry christmas - Dr. Wasteland"

All of them just sat there, looking at each other, unable to find words. All of them felt a strange but warm feeling inside. A warm feeling of faith, faith in what makes us human... Faith in humanity.

The spirit of christmas was even able to survive the apocolypse.

kingcraig1 (screenshot)

F e e ling special before xmas , tral a la la la, la la la la
ARMA3's my yuletide ticket , tral a la la la, la la la la
All I do is play in editor , creating wars and re liv ing them .
4 full campaign I am awaiting , tral a la la la, la la la la
Operation flashpoint got me , am I crazy , tral a la la la, la la la la
Bohhemia you've created some real magic , tral a la la la, la la la laaaa
am I now an Arma tragic , tral a la la la, la la la la.

Anton K. (screenshot)
HealtyFruits (screenshot)
Lucien T. (screenshot)
Paul B. (screenshot)
Rendo P. (screenshot)

Dashing through terrain
with a full bag on my back
heading to Rogain
to celebrate chirstmas in Stratis.
I came from mike 26
with a squad of 6 Marines
That's when we were ambushed by the Stratis Military

OH

mike 26, mike 26
Rogain has been lost
The AAF are pushing hard
And Camp Maxwell has been gained, HEY

mike 26 mike 26
Sprinting makes me tires
Oh what fun it is to ride
on the top of a slammer tank.