This Saturday March 7th, starting at 17:00 UTC, Bohemia Interactive will be hosting an exclusive First Look Livestream for its upcoming Arma 3 Marksmen DLC.
Straight from Bohemia Interactive HQ in Prague, members of the Arma 3 development team will be showcasing the seven new DLC weapons - alongside much anticipated new features, such as Virtual Garage, weapon resting and bipods, the improved simulation of recoil and suppression, and various enhancements to sound. The session is expected to be about one and a half hour, and will be streamed to the official Arma 3 channel on Twitch.
After many months of hard work, we're excited to finally present the upcoming Marksmen DLC to Arma 3 fans. There's a lot to show. We have seven new weapons, new showcase scenarios, a feature called Virtual Garage, a brand new multiplayer mode – and not to forget, major free platform features, such as weapon resting and deployment, which have been on the community wishlist for a long time. We hope to see all of you joining us for the livestream this Saturday!

Matt Lightfoot, Associate Producer at Bohemia Interactive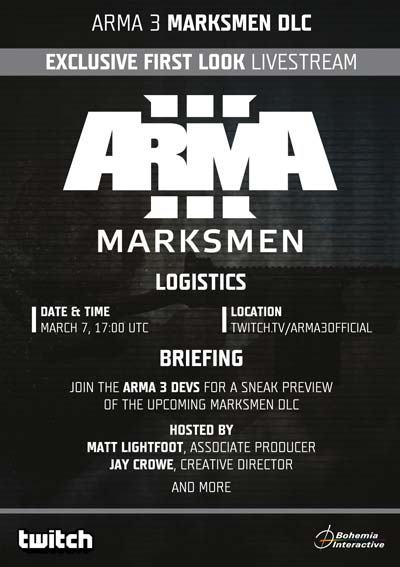 To enlist for Arma 3, people can purchase the regular edition of Arma 3 (44.99 EUR/39.99 GBP/59.99 USD) and the Arma 3 Digital Deluxe Edition (49.99 EUR/42.99 GBP/64.99 USD) - which includes the Arma 3 soundtrack, tactical maps of Altis and Stratis, a tactical guide containing more than 350 pages, and Bohemia Interactive's debut game Arma: Cold War Assault - from Steam and Store.bistudio.com. A boxed version of Arma 3 is sold at many of the major high-street retailers.