For more than a decade now, our series has been putting players on both the flashy and pointy end of projectiles. It's something we take very seriously. So, when we set out to redefine what it means to fire a weapon in Arma 3, rest assured, it's not something we do lightly. With the upcoming Marksmen DLC, launching April 8th, that's exactly the target in our sights.
To achieve it, we've developed a fantastic set of new weapons, scenarios, and gameplay features. We'd like to introduce this work and share some of our decisions, motivations, and hopes. Before digging into the game-changing 'platform update', we'll kick off with an introduction to the exclusive new 'premium content', and round off with a look at our development plans more broadly.
PREMIUM CONTENT

MARKSMEN & MORE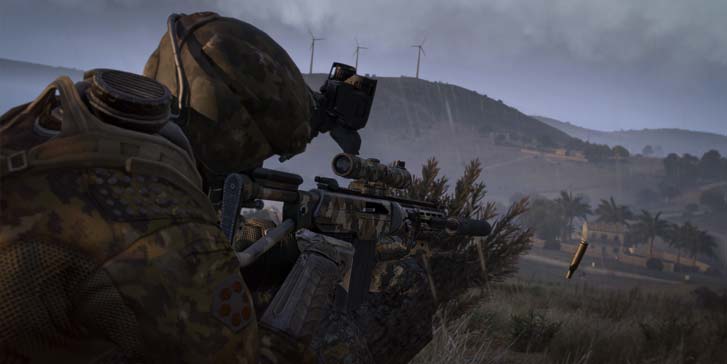 5 marksmen rifles and 2 medium machine guns set a new standard of quality and offer new opportunities for squad-based gameplay. Sandbox Lead, Lukáš Haládik, dug into the juicy details in a recent OPREP - be sure to check it out.
These weapons are complemented by 2 new scopes, 3 new types of ghillie suit for each major faction, plus the addition of 2 remotely-operated laser-designators.
MISSIONS & MODES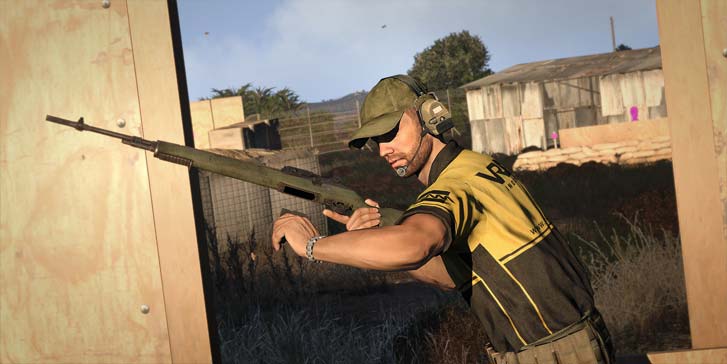 New scenarios challenge players to lay down some serious firepower and master the new weapons across a variety of both combat and competitive situations.
Showcase Marksmen tasks players to execute a counter-insurgency operation, while 3 new Firing Drills focus upon balancing high calibre and high rate-of-fire weaponry against control, accuracy, and speed.
PLATFORM UPDATE
Although the 'tangible' output of Marksmen DLC is its range of high-quality content that expresses the value of squad-based gameplay and high calibre firepower, there's much more to it than that. We've set out to make firing a weapon simple to do, rewarding to master, and more satisfying to experience. With a focus upon the core infantry experience in general, and ranged combat in particular, our new gameplay features - freely available to everyone that plays Arma 3 - are set to redefine what it means to fire a weapon. Let's unwrap what that means by taking a look at 3 key enhancements.
Most clearly, Weapon Handling overhauls the simulation of recoil and introduces the basic concept of stabilisation: 'resting' or 'deploying' a firearm on a stable surface. Improvements to Suppression Mechanics, too, encourage and reward tactical planning and movement; particularly, in squad-based firefights. The goal of Environmental Audio Enhancements is to create a richer battlefield soundscape based on an authentic simulation of real-life factors, where the shooter is more 'connected' to their environment. The work breaks down into 3 components: 'samples', 'attenuation', and 'tails'.
WEAPON HANDLING

Our 'handling overhaul' breaks down into two core mechanics: Weapon Recoil and Weapon Stabilisation. This work links together other handling mechanics - such as Inertia and Sway - creating a more complete infantry experience. The new recoil offers a number of subtle adjustments (e.g., the introduction of sight misalignment) together with new parameters (e.g., adjustable limits for lateral sway), plus a different way of handling animations. In short, our team has set out to improve the look and feel firing a weapon; a shooter's body should respond more fluently to consecutive kick-backs. The goal is not to make it more difficult; rather, more natural: a mechanic that rewards the intelligent use of stances, movement speeds, and combat behaviour.
Weapon Stabilisation - comprised of 2 inter-related subcomponents: 'resting' and 'deployment' - is the core pillar of Marksmen DLC. Although it's perhaps best expressed in the new Marksmen DLC weapons (and their associated bipod attachments!), it improves weapon handling across the board and, more broadly, encourages tactical movement (especially in squads). Weapon Resting simulates the 'passive' benefits offered in situations where aiming would reasonably benefit from a stable firing position (e.g., when prone, leaning against a wall, resting on a low wall). Weapon Deployment enables players to dynamically create fixed-point firing positions in the environment. When 'deployed', players benefit from improved crosshair stability within a limited arc of fire; however, one trade-off is reduced freedom of movement.
SUPPRESSION MECHANICS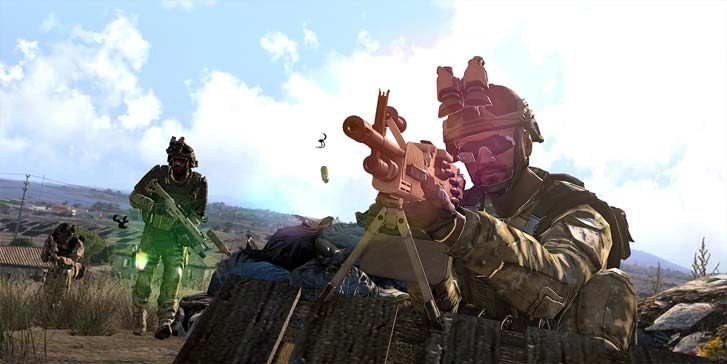 Concentrated fire in the immediate vicinity of an enemy degrades their ability to move and return fire. Our AI can now detect projectiles flying / impacting near them, so they'll try to avoid taking cover in areas under heavy fire, and will also receive cumulative 'dynamic aiming error' penalties (making them less quick / accurate in their reaction).
This mechanic offers a certain depth of simulation, accounting for the calibre of the suppressing weapon and the skill of the AI under fire. With intelligent planning and movement, squads can cooperate to gain a tactical advantage, out-maneuvering enemy positions - or securing a safe retreat!
ENVIRONMENTAL AUDIO
We've passed through all of our infantry weapons and upgraded their shooting samples. Aside from the shots themselves, several other aspects were updated to improve authenticity and richness of firefights. Audio Lead, Jan Dušek, went into a bit more technical detail in his recent OPREP!
A new Distance-based Frequency Attenuation effect will make distant sounds (e.g., a firefight half a klick away) far more characteristic. That aside, our Weapon Tails feature intelligently selects sample variants based on the location of the shooter. Shots fired inside buildings, for example, feel louder than those out in the open with new reverb effects.
FREE CONTENT
NEW MULTIPLAYER

Marksmen DLC presented our team with an opportunity to try something a bit different in terms of its multiplayer content. We wanted to create a new mode based around the idea of 'hybrid' MP gameplay: a mix of Coop, PvE and PvP. The result is End Game, a relatively simple scenario that sees 2 sides compete to locate and secure valuable schematics against a common enemy. The operation is split into 3 distinct phases: setting up a forward operating base, retrieving intel from multiple locations and, finally, securing the schematics of an unknown enemy device.
We're also developing 3 new MP systems, each built around the idea of encouraging and rewarding teamplay. We aim to use End Game as a fun vehicle to develop and validate these experimental, scripted systems, with a view to building upon this groundwork after Marksmen DLC's release. To find out more about these systems, read a splendid blog on the topic, written by the game mode's principle architect, Nelson Duarte. Plus, dig into the details across of the game mode itself across on it's dedicated web page!
DYNAMIC GROUPS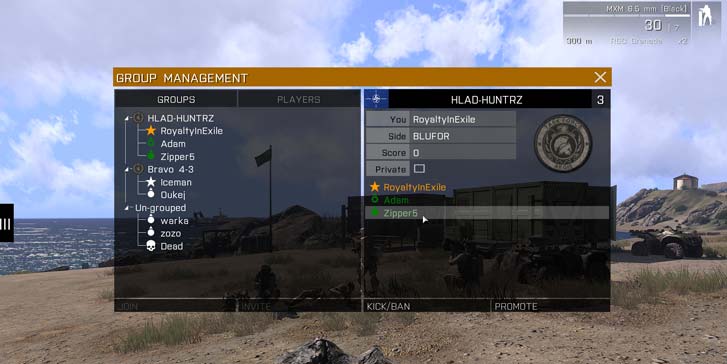 'Dynamic Groups' helps commanders react more effectively and plan more intelligently by forming squads based on the situation at hand.
SHARED OBJECTIVES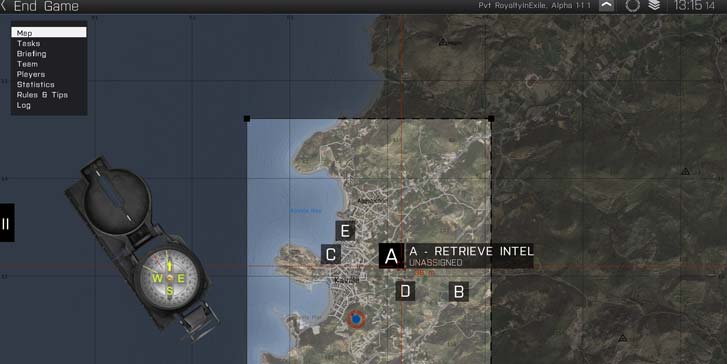 'Shared Objectives' provides information to help players cooperate more effectively, dividing their forces across multiple objectives.
REVIVE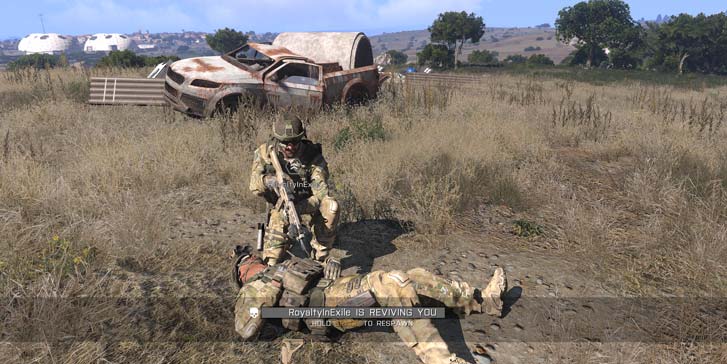 'Revive' is designed to facilitate teamplay by keeping groups closer together and avoiding the need to respawn.
VIRTUAL GARAGE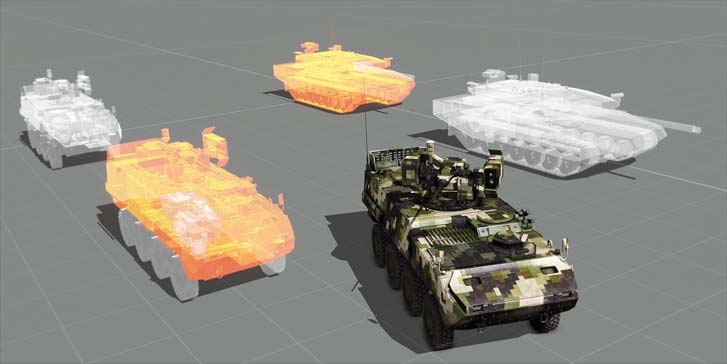 The Virtual Garage (together with the existing Arsenal) enables players to try out all of Arma 3's platform and premium content without restriction, pick optional parts, and export custom configurations for use in missions. It also supports community weapons, vehicles, and characters.
NEW TRAINING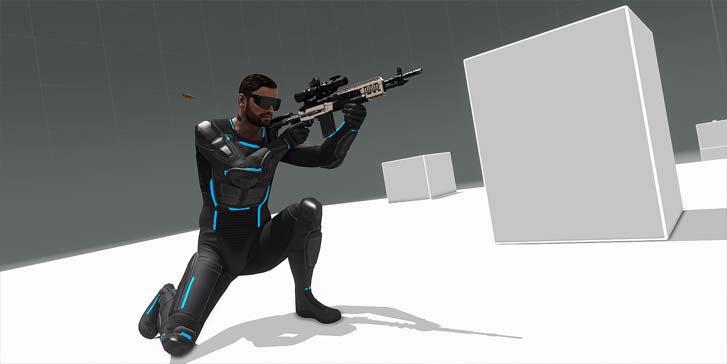 Building upon the VR Training Topics that we first introduced in last summer's Bootcamp Update, our platform update introduces new Weapon Handling tutorials designed to help players get to grips with Marksmen DLC's powerful new firearms, with a focus on ranged combat.
NEXT OBJECTIVE_
It's just shy of one year since we embarked upon our post-release roadmap and, looking back, we're proud of the sustained progress! With Zeus, Bootcamp, Helicopters and Marksmen milestones under our belt, Arma 3 has truly matured as a game and platform. Along the way, we hit SITREP #00100, a satisfying milestone that marks over 2 years of weekly development updates.
We believe this approach - balancing free / premium updates and offering new features / improvements to all - is the fairest and most effective way to sustain and build our community. So, when we say we're looking forward to bringing even more content and gameplay to Arma 3, we really mean it. What's more, we think there are opportunities to refine certain long-standing existing aspects of our game, some of which are already starting to appear on Dev-Branch.
Of course, our main focus is building the expansion terrain, plus new its content and associated features; however, to get there, we expect to release some important additional updates along the way, with a 3D Editor foremost in our plans. We intend to set out this path more clearly in a future blog. For now, though, enjoy Marksmen DLC, its associated game modes and features, and be sure to check out all of the splendid MANW entrants, finalists, and winners.
Finally, we'd like to thank our community for their feedback over the last few months. Enhancing core features like weapon handling and sound effects is not without risk, but has the potential to bring game-changing improvements. Publishing work-in-progress features and iterating on feedback helps us to validate our design and ensure a smoother final launch for all. So, thanks for joining us on Marksmen DLC's journey to launch - now let's push on to a splendid summer of Arma 3 development!
On behalf of the A3 team,